Orlando, Fla. — The Orlando Magic's wayward shooting helped the New York Knicks break into the win column.
The Knicks held the Magic to 25 percent shooting and won, 75-68, Monday night to avoid their second 0-3 start in as many seasons.
Last year, New York lost its first four games.
The Magic's 21-for-84 night was New York's best defensive effort in its lengthy history and Orlando's worst shooting performance in the franchise's 15 years.
"It feels good to win, to win the way we did, on the road against our big nemesis," said Charlie Ward, who led New York with 15 points and five assists. "But any win is good."
Keith Van Horn added 14 points and eight rebounds, while Othella Harrington had 12 points.
Almost 18 years have passed since a Knicks squad had such a dominant game on defense. Dec. 19, 1985, New York held the Indiana Pacers to 25.7 percent shooting.
Leading New York's defense was Kurt Thomas -- five blocks and 11 rebounds -- and Dikembe Mutombo -- three blocks and seven rebounds.
"Our team defense this season has been really good," Van Horn said. "We've just got to get our offense going, and I have confidence that it will get going."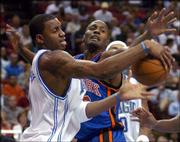 New York shot 40 percent, including 1-of-12 on three-point attempts, and committed 20 turnovers. Van Horn missed 16 of 20 shots after scoring 29 last week against Orlando in the season opener.
The Magic's previous worst shooting performance was 28.6 percent at Philadelphia March 15, 1999. But a 2-for-15 second quarter and 4-for-16 fourth quarter helped beat that record by three misses.
Orlando coach Doc Rivers looked at a stat sheet after the game and saw that his team got a 9-for-30 night from the starting backcourt of Tracy McGrady and Tyronn Lue, a 9-for-31 outing from the front line of Juwan Howard, Drew Gooden and Steven Hunter, plus a 3-for-23 performance from the bench. Rivers summed up the night in four words.
"We're not that good," he said.
McGrady scored 19 points on 5-for-20 shooting to top the Magic, who lost their opening three home games for the first time in franchise history. McGrady also didn't make a three-pointer in four tries, breaking the NBA's longest active streak of 53 straight games with a three.
Hawks 90, Hornets 80
Atlanta -- Dion Glover had 20 points, Jacque Vaughn filled in for top scorer Jason Terry, and Atlanta beat New Orleans for its first win.
Terry, averaging 22.7 points, was serving a one-game suspension, imposed by the NBA for throwing a flagrant elbow in Saturday's loss to Indiana.
Vaughn started in Terry's spot and played the entire game, scoring eight points, dishing out seven assists and committing only two turnovers. After the buzzer, Vaughn presented the game ball to Steve Belkin, who leads a group that is buying the Hawks.
Robert Traylor scored a career-high 20 points to lead the Hornets, who lost for the first time after opening the season with three straight victories. They were the last unbeaten team in the Eastern Conference.
Mavericks 103, Heat 93
Dallas -- Dirk Nowitzki scored 16 of his 30 points in the third quarter to break open a tight game and send Dallas to a victory over winless Miami.
Steve Nash added 18 points and 11 assists, and Tony Delk had 17 points for the Mavericks (3-1). Dallas also got 13 points and nine rebounds from Antoine Walker.
Udonis Haslem had 20 points and 12 rebounds, John Wallace scored 19 points, and Lamar Odom had 17 points and nine assists for the short-handed Heat (0-4).
Miami was missing key players Eddie Jones (sore right hand) and Dwyane Wade (left hip pointer). Samaki Walker was placed on the injured list Monday because of an injured right shoulder.
Rockets 98, Bulls 66
Chicago -- Steve Francis scored 19 points to lead Houston to a rout of Chicago.
Cuttino Mobley added 14 points, and Yao Ming had 12 points and seven rebounds for the Rockets, who forced the Bulls into 19 turnovers and held them to just 27 percent shooting.
Jamal Crawford led the Bulls with 19 points, and Tyson Chandler had 14 points and 17 rebounds. It was the third blowout loss already this season for Chicago (1-3). The Bulls lost to Washington at home by 25 in their opener and got beat Saturday at Milwaukee by 30.
Bulls forward Scottie Pippen will be sidelined at least one week after missing the game because of a sore left knee.
Grizzlies 88, Spurs 80
Memphis, Tenn. -- Stromile Swift had 14 points and eight rebounds to lead Memphis over injury-plagued San Antonio.
The Spurs, already missing starting point guard Tony Parker because of an ankle injury, played most of the game without Tim Duncan, who left because of an ankle injury with about five minutes remaining in the first quarter. The team said Duncan had a mild left ankle sprain and would have an MRI today.
Jason Williams had 13 points and seven assists for the Grizzlies, who earned their first home win over San Antonio since moving to Memphis three years ago.
Rasho Nesterovic and Manu Ginobili scored 13 apiece for the Spurs, who have lost both their road games this season. Nesterovic also grabbed 14 rebounds.
Jazz 93, T'wolves 88
Salt Lake City -- Matt Harpring scored 32 points, and Kansas University product Greg Ostertag pulled down a career-best 21 rebounds for Utah.
The Jazz took advantage of Kevin Garnett's ejection in the second quarter. Garnett was tossed with two technicals for arguing a call, and Minnesota couldn't hang on to a lead in the fourth quarter without the forward, who threw the ball into the crowd before leaving the court.
Raul Lopez had 15 points and eight assists in his second career start, and Andrei Kirilenko scored 17 points for the Jazz, who were 10-for-20 in the fourth quarter while rallying for the win.
Sam Cassell had 27 points and 10 assists, and Latrell Sprewell scored 24 for the Timberwolves.
Sixers 94, Blazers 83
Portland, Ore. -- Allen Iverson scored 30 points to give Philadelphia a victory over Portland.
Iverson, who was hurting because of a left shoulder sprain, got help from Glen Robinson, who made his season debut after missing the first three games because of an NBA-imposed suspension after a domestic assault and battery conviction.
Robinson was acquired from Atlanta in a four-team deal in August, and complemented Iverson with 15 points as the Sixers overcame an early deficit to lead by as many as 18 points. The win snapped a two-game losing streak on the West Coast for the 76ers.
Rasheed Wallace had 22 points and seven rebounds to lead the Blazers.
Copyright 2017 The Associated Press. All rights reserved. This material may not be published, broadcast, rewritten or redistributed. We strive to uphold our values for every story published.