Two years of drought-like conditions may help parts of the Sunflower State begin living up to its moniker.
Dry weather the past two years has left corn and soybean farmers spending more time scratching their heads than harvesting bountiful crops. The situation has area agriculture experts speculating that farmers will begin looking to plant fall crops that may be more resistant to dry weather.
And that's where the state flower may come into play. According the Kansas Department of Agriculture, sunflowers have been faring better than typical fall crops.
For example, in its most recent weekly crop report, the department rated sunflowers as 67 percent fair to excellent; in contrast soybeans were graded 59 percent fair to excellent.
Farmers across the state are taking notice.
According to the National Sunflower Assn., sunflower production is up in Kansas. The Bismarck, N.D.-based organization is estimating 179,000 acres of sunflowers will be harvested in Kansas, up 7 percent from 2002. Total production is expected to increase 48 percent, another sign that the crop has done well despite a dry growing season.
A few farmers in northeast Kansas dabble in sunflowers, but the numbers may grow, said Ted Grinter, a rural Lawrence farmer who has been growing sunflowers with his father, Jim, for about 20 years.
"There will probably be more people taking a look at it," Grinter said. "They're more drought-resistant than a lot of crops. Once they're up, they're pretty tough."
Terry Kastens, a professor in agriculture economics at Kansas State University, said interest in the crop had sprouted.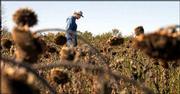 "I agree that the number of acres will increase because of drought," Kastens said. "It is the 'recently effect.' We tend to remember what has happened most recently to us. And what we're remembering now is that corn and milo have performed pathetically in recent years."
Other options
Brian Pine, a rural Lawrence farmer and president of the Douglas County Agribusiness Network, said he definitely has heard from farmers ready to explore new ideas.
"I think it is inevitable that people are going to start looking at other alternatives," Pine said. "Unfortunately it has been so bad that some people are going to consider just flat getting out of farming. That's the reality."
Those that decide to stay in the business have other crop options to consider besides sunflowers.
"The positive thing is that because we do have a lot of population in the area, we do have a lot of options," Pine said. "If people wanted to truck farm (grow fruits and vegetables) in this area, there are possibilities for that. If people wanted to get in the business of growing trees for nurseries, there are options for that too."
The Agribusiness Network, which is made up of area farmers and others interested in agriculture, has scheduled a brainstorming session from 9 a.m. to 3:30 p.m. Feb. 2 in Building 21 at the Douglas County 4-H Fairgrounds. The event will be open to the public and registration details will be released closer to the date of the event."We want there to be no barriers to what people will think about," Brian Pine, a rural Lawrence farmer, said. "We hope to generate three to six ideas that are worthy of further study."
Bill Wood, Douglas County agriculture extension agent, said some farmers were talking about converting their corn and soybean fields into alfalfa to capitalize off the growing number of rural Douglas County households that own horses.
Plus, there's some other ideas being floated. Wood said farmers continued to hear talk of some restaurants in the area being interested in using canola oil as a healthier way to fry foods.
"If we could get in on the bottom floor of that, it could be a good deal because we can grow canola here," Wood said.
Crop challenges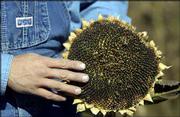 Deciding to move away from corn and soybeans to some other crop is easier said than done. Sunflowers provide a good example of the problems of growing a crop that's out of the mainstream. The biggest problem usually isn't growing it -- it's selling it.
Corn and soybean farmers in northeast Kansas don't have to travel far to find a grain elevator that will buy their crop.
Most sunflower farmers, if they want to sell their crop at a grain elevator, either have to travel to Goodland, where there is a sunflower oil processing plant, or to Colby, where there is a sunflower confectionery plant, which produces sunflower seeds for human consumption.
Or they could do like Grinter does. He cleans the sunflower seeds, dries them and then bags them to sell as birdseed. He sells 25-pound and 50-pound bags of birdseed for between $5.50 and $10 per bag at events like the Lawrence Farmers Market or an upcoming Christmas Market at the Lawrence Knights of Columbus.
He used to sell wholesale to area supermarkets and feed stores but said it was becoming more difficult to compete with larger seed companies in North Dakota, which is the largest sunflower-producing state in the country.
He estimates he sells about 200 bags of birdseed a year, and he's let his sunflower crop dwindle from about 200 acres to about 15 acres.
"I mainly raise them now so people have something to come out and take pictures of," Grinter said.
Wood said the struggle to sell alternative crops often frustrated farmers.
"Somehow you have to find a buyer," Wood said. "Most farmers are out farming because they love being out in the field working. That doesn't mean driving around to Orscheln or Hy-Vee peddling your product."
Kastens said he was mixed on whether it would become easier to sell sunflowers in the state.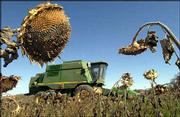 "The only reason I'm hesitant to say it is going to take off is because we have been preaching it for years," Kastens said. "You hear all the time how sun oil is a healthy oil and how it is thought of as a good cooking oil, but yet it hasn't ever taken off like people thought it would."
But Kastens said the past couple of years should at least keep sunflowers on the minds of farmers. A sunflower field averages about 1,500 pounds to 2,000 pounds per acre, and market prices during the past two years have averaged about $10 per hundred weight. Sunflowers cost about the same -- roughly $100 per acre -- to plant as soybeans, yet their yields have been more impressive.
"From a crop yield standpoint, sunflowers during the last two years would have figured out to be a better investment than soybeans, without question," Kastens said. "Just because we've been talking about this for a quarter century doesn't mean it still doesn't have potential."
Copyright 2018 The Lawrence Journal-World. All rights reserved. This material may not be published, broadcast, rewritten or redistributed. We strive to uphold our values for every story published.