United Nations — The U.N. Security Council on Friday unanimously authorized the deployment of a French-led international force in northeastern Congo, where ethnic fighting has killed more than 400 people.
The international force will be made up of 1,400 troops, France's Defense Minister Michele Alliot-Marie said. The exact composition of the force was being discussed Friday at a meeting of contributor nations.
France's U.N. Ambassador Jean-Marc de La Sabliere said the first French soldiers would start arriving next week in the Ituri province and the force would be at its full strength by June. The deployment, he stressed, was temporary and a Bangladesh-led U.N. force will take over in September.
The armed troops will be charged with protecting thousands of civilians in and around the provincial capital of Bunia.
The crisis began May 7 when Uganda withdrew its more than 6,000 troops from Bunia as part of an African-mediated peace accord. Rival Lendu and Hema tribal groups fought for control of the town in street battles.
U.N. spokeswoman Hua Jiang said Red Cross officials had counted 415 bodies around Bunia as of Friday morning.
The rebel Union of Congolese Patriots, made up of Hema fighters, has taken control of Bunia. U.N. officials said the town was calm but volatile, with many of its 250,000 people fleeing or taking shelter in the U.N. compound or camps near the airport.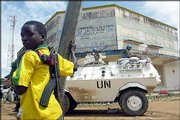 Alliot-Marie said the U.N.-backed intervention force had received troop offers from Belgium, Germany, Spain, Italy, Britain, Canada and South Africa.
The United States was not contributing troops but would consider requests for logistical of financial assistance, officials said.
The new force will be able to use firepower to protect civilians and areas around Bunia, the site of the worst violence. The existing U.N. monitoring force are armed but can use their weapons only in self defense or to defend the U.N. bases.
Earlier this month, U.N. Secretary-General Kofi Annan asked President Jacques Chirac to lead a force that could take over for 700 Uruguayan troops, who were already in Congo to monitor a 1999 cease-fire.
The Security Council authorization came after more than two weeks of negotiations during which the United States and other council nations worked to meet French demands that the force be multinational, deployed on a temporary basis and with a precise mandate.
Copyright 2018 The Associated Press. All rights reserved. This material may not be published, broadcast, rewritten or redistributed. We strive to uphold our values for every story published.