Minneapolis — After a slow start, the Minnesota Twins are back in control of the AL Central.
Doug Mientkiewicz went 3-for-4 with a three-run homer, and Jacque Jones and Dustan Mohr also homered Wednesday, helping Minnesota beat the Oakland Athletics 6-5 and extending its winning streak to four.
"Everybody was saying we were not as good as last year, and we took it to heart," Mientkiewicz said. "We said to each other, 'We're better than last year, so let's prove it.'"
Minnesota lost 14 of its first 25 games, but has gone 20-6 since. The Twins have won eight of their last nine series and are 11 games over .500 for the first time this year.
"When the Yankees were kicking our butts, I saw a lot of sad faces," Torii Hunter said. "It's different now, we're confident, and we're just trying to ride this thing out a while."
Joe Mays (6-3) won his third straight start, allowing four runs and eight hits in six innings.
Eddie Guardado pitched the ninth for his 15th save in as many chances, and his 20th straight extending to last year. With a runner on first, Terrence Long lined into a game-ending double play to Mientkiewicz at first base.
"We have had some emotional series lately with guys getting hit and getting upset," Mientkiewicz said. "That can get teams going."
Mientkiewicz, who injured his ankle running the bases May 18, put the Twins ahead in the second when he homered after squaring to bunt on the previous pitch.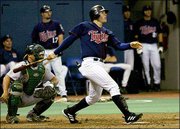 "I haven't been in there a lot, so I was going to bunt," Mientkiewicz said. "That was the only pitch I was going to swing at."
Chris Singleton homered for Oakland, which has lost eight of its last 14 games. The A's lost despite outhitting Minnesota 13-6.
"I think you make your breaks," Oakland manager Ken Macha said. "We had a 3-0 lead, we made some errors and we didn't execute twice with the bases loaded."
John Halama (2-4) gave up six runs -- five earned -- and five hits, including the homers. Halama, who lasted four innings, had been 6-0 against the Twins before losing twice in the past week.
"Two of the home runs were from the stretch, balls way out over the plate and up," Halama said. "It's frustrating."
Indians 8, Tigers 2
Detroit -- Jody Gerut homered and drove in three runs, leading Cleveland over Detroit and preventing the Tigers from winning a home series for the first time this season. Detroit dropped to 13-38, the worst record in the major leagues, and is 4-19 at Comerica Park.
Ricardo Rodriguez (3-5) won for the first time in eight starts since April 13, allowing two runs and eight hits in seven innings.
Tigers starter Mike Maroth (1-10) lasted 1 1/3 innings before leaving because of a strained hamstring.
Yankees 6, Red Sox 5
New York -- Brandon Lyon walked Jorge Posada with the bases loaded in the ninth, helping the Yankees beat Boston after Mariano Rivera blew a four-run lead in the top half.
The Red Sox knocked out Mike Mussina when the first two batters reached in the ninth. Todd Walker singled off Rivera to load the bases and Nomar Garciaparra hit a two-run single. Rivera (1-0) retired the next two batters before Hillenbrand's RBI single and Bill Mueller's tying infield single.
The Yankees then won it in the bottom half against Lyon (1-2) after Hideki Matsui doubled to left with one out and went to third on Manny Ramirez's throwing error.
White Sox 8, Blue Jays 0
Toronto -- Jon Garland (3-4) pitched eight scoreless innings and Magglio Ordonez hit a three-run homer as part of a six-run ninth inning as Chicago ended Toronto's six-game winning streak. Toronto's Kelvim Escobar (2-2) allowed two runs on four hits in 4 1/3 innings.
Orioles 6, Angels 2
Baltimore -- Brian Roberts hit his second grand slam in seven days and Melvin Mora went 3-for-3 with two walks as Baltimore beat Anaheim. Roberts, summoned from the minors last week, has hit safely in all seven games since his recall and has driven in 10 runs. Jason Johnson (5-2) gave up two runs on eight hits in six innings. He has already matched his win total of last year, when he went 5-14. An error by Anaheim shortstop David Eckstein preceded Roberts' slam and led to four unearned runs against Ramon Ortiz (4-5).
Devil Rays 6, Rangers 4
St. Petersburg, Fla. -- Ben Grieve homered twice and drove in four runs to lead Tampa Bay over Texas. Jeremi Gonzalez (2-1) gave up four runs, two hits, four walks in five-plus innings and hit a batter. He is just the second Devil Rays starter to win back-to-back starts this season. Rangers starter Alan Benes (0-3) allowed four runs, six hits and four walks in 31/3 innings.
Copyright 2018 The Associated Press. All rights reserved. This material may not be published, broadcast, rewritten or redistributed. We strive to uphold our values for every story published.