OKLAHOMA CITY — Before the season, Kansas University baseball coach Ritch Price knew the Jayhawks had little margin for error if they were to advance to the Big 12 Conference tournament.
In the team's final game -- a 4-3 loss to Missouri in 11 innings Thursday at SBC Bricktown Ballpark -- KU had more than its share of mistakes. The Jayhawks hit into four double plays, left eight runners on base, had two baserunning miscues and made mental errors in the field.
KU's problems started in the first two innings, when third baseman Travis Metcalf and shortstop Ritchie Price didn't communicate on foul pop-ups.
"I didn't feel like Travis went for those balls very hard," Price said, "and Ritchie's got to go over and call him off if he's not going to go hard after the baseball."
Going hard on the base paths also cost the Jayhawks. Down 1-0 in the bottom of the third inning, Lance Hayes was thrown out trying to return to first base on a fly-out to left field.
Ryan Baty was thrown out trying to stretch a single into a double with a runner on and no outs in the sixth inning, likely costing KU at least one run.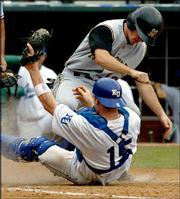 "The baserunning play by Lance Hayes may be the worst baserunning play he's made his entire life," Price said. "I've only seen him make one other blunder on the bases in 61 games, so I'm not going to criticize him today."
When the Jayhawks had runners on base, they had problems getting them home. KU hit into four double plays, including one with no outs in the ninth inning and one that ended the 10th.
"For both teams, it's a momentum-changer," MU coach Tim Jamieson said. "You think you're going to win the game, or score a run or have a big inning, and the next thing you know you're back out there playing defense.
"They don't call it the pitcher's best friend for nothing."
Missouri's pitchers forced KU's two best hitters -- Baty and Casey Spanish -- into those final two double plays.
"We had the right guy up with the game on the line, and I'll put the bat in his hands anytime we have that opportunity to win," Price said.
Notes: Baty had two hits, giving him 97 for the year and breaking the KU single-season record. Joe DeMarco held the old record with 96 hits in 1997. ... Kevin Wheeler moved into a tie for eighth place on the career RBI list with 133. ... Matt Tribble moved into a tie for seventh place on KU's single-season hit list with 81. ... KU turned three double plays, tying a season high. ... Missouri now leads the all-time series, 188-114, and has a nine-game winning streak over KU. ... Baty and Tribble are tied for the third-most games played in a season at KU with 63.
Copyright 2018 The Lawrence Journal-World. All rights reserved. This material may not be published, broadcast, rewritten or redistributed. We strive to uphold our values for every story published.