Time, it is said, changes everything.
In the past several weeks, state Sen. Susan Wagle, a Wichita Republican, gained national attention by raising a stink about Professor Dennis Dailey, an otherwise highly regarded teacher of human sexuality courses at Kansas University.
But nearly 30 years ago, notorious porn star Linda Lovelace came to KU to film a movie. University administrators gave the film crew the green light, and state officials were either too busy or just didn't care enough to raise a stink about it.
In September 1974, Lovelace, who gained fame after she starred in the unabashedly pornographic film "Deep Throat," brought Lawrence to its knees when she arrived to film a soft-porn flick titled "Linda Lovelace for President."
Lovelace's film crew also had received permission from city officials to film a parade downtown and a rally at South Park. But when the city realized who the star was and what kind of movie it was going to be, officials backed out.
"I think it was just that we decided the city didn't want to have any role in a porn film," then-Mayor Jack Rose said in a recent interview.
Lawrence High School had been invited by the film's producers to have its band march in the parade but that invitation also was rejected. School officials wanted written assurance the movie was not going to be R- or X-rated, said Brad Tate, who was principal. They never got that assurance.
"We just told them that's the way it is going to be and they went somewhere else," Tate recalled.
The school had already been stung by Hollywood types two years earlier when it was used for filming a movie that later turned out to be R-rated, Tate said. He and others contacted recently couldn't remember the name of that movie. One source said he thought it was called "Prime Cut."
KU to the rescue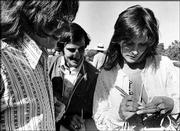 Rejected by the city and school district, the "Lovelace for President" filmmakers turned to KU. John Conard, who was assistant to Chancellor Archie Dykes, remembers being asked about filming scenes on campus. Dykes was out of town at the time, Conard said.
"I told them it was OK," he said. "I said it was a free and open campus. We didn't have any guards posted to keep them out."
Conard said he was vaguely aware at the time of who Lovelace was and that the movie might be X-rated, but he wasn't concerned.
"I think the campus should be free and open to all forms of expression," Conard said.
When Dykes returned, he told the Journal-World that the university attorney, Charles Oldfather, had advised him the campus was a public place and access couldn't be refused.
At the same time Lawrence was abuzz with talk about Lovelace and X-rated movies, former pro football player Bill Glass, who had become a traveling evangelist, arrived in town for a weeklong crusade at Allen Fieldhouse.
Glass also wanted to speak in some of the city's school classrooms. That request was ultimately denied after some residents protested.
Who's the teacher?
Glass tried to stir the Lovelace controversy. He issued an invitation through the media for Lovelace to attend the crusade and "be helped."
Lovelace responded in an interview with the Journal-World.
"Maybe he should come here," she said. "I could teach him something."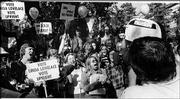 Lovelace's parade was filmed on Jayhawk Boulevard. More than 200 students and others participated in the campus filming, which also included scenes at Potter Lake.
Also getting into the act were some players from KU's men's basketball team.
Former player Donnie Von Moore recalled that he and other players happened to be in sweatsuits running on campus when some players, he couldn't remember which ones, decided to join the Lovelace parade.
Von Moore, now a substitute kindergarten teacher in Chicago, said he just watched.
"I think everybody was amused by it," Von Moore said.
Lovelace, who died a year ago at age 53 after a car wreck, continued to be better known for "Deep Throat" than any of her other movies. She disappeared from the spotlight in the late 1970s. In the early 1980s she claimed to have become religious and wrote a book, "Ordeal," in which she criticized her past and those in the porn industry.
The movie made in Lawrence, in which Lovelace wins the presidency, was reportedly going to be made in R- and PG-rated versions for the United States with an X-rated version for the European market, filmmakers said at the time. No sex scenes were filmed at KU. The movie can still be purchased on videotape over the Internet.
City amused
When asked to recall the Lovelace filmmaking venture, Rose, Tate, Von Moore and Conard all chuckled.
Rose doesn't remember City Hall getting many calls one way or the other about filming downtown.
"I remember it being more of a humorous matter than anything else," Rose said.
Likewise, KU did not come under fire for allowing Lovelace to film scenes on campus, Conard said. Dykes told the Journal-World shortly after the filming that he had received several calls from those who objected to KU allowing the filming, but said he also would have received calls if he had stopped it.
"We caught more flak a few years earlier when (H.) Rap Brown spoke on campus," Conard said, referring to the fiery black activist.
KU received a payment of $3,272 from the filmmakers to cover building and grounds use and security.
The KU basketball players were never criticized for being in the movie nor were they admonished by coach Ted Owens, Von Moore said. He said times were different then.
"Man, people were streakin' back then," Von Moore said, recalling the fad that saw students on college campuses nationwide running naked in public.
Lovelace's visit wasn't as serious an issue as the controversy over Dailey and the issue of academic freedom, Rose said. Nor did it attract much national attention, he said.
"There was no Bill O'Reilly," Rose said, referring to the Fox news network's commentator who several times recently has criticized Dailey and KU.
Copyright 2018 The Lawrence Journal-World. All rights reserved. This material may not be published, broadcast, rewritten or redistributed. We strive to uphold our values for every story published.