Anaheim, Calif. — The Anaheim Mighty Ducks gave themselves plenty of time to savor their first berth in the Stanley Cup finals.
Goaltender Jean-Sebastien Giguere and the upstart Mighty Ducks begin what could be a lengthy break after finishing their second sweep of the playoffs with a 2-1 victory Friday over Minnesota.
Anaheim must await the winner of the Eastern Conference finals between the New Jersey Devils and Ottawa Senators.
It could be a while. If that series goes seven games, it won't end until Friday.
The Ducks don't mind having time to relax and get ready for the Cup finals.
"Rest is a weapon and I think we can use it," said Giguere, who continued his sensational postseason run by allowing only one goal in the sweep of the Wild.
"Physically, I feel pretty good. We've got a lot of rest in between the series. Even before the first series, we got five or six days rest."
The seventh-seeded Ducks swept defending Stanley Cup champion Detroit in the first round, then eliminated top-seeded Dallas 4-2 in the second round.
The Ducks and their stingy goalie, who's playing in his first postseason, are 12-2.
Rookie coach Mike Babcock doesn't intend for this week to be a vacation for the Ducks.
"Our plan will be to get prepared. We will get prepared," he said emphatically. "We will have a pretty good report on the team we'll play. We will work out guys and get healthy and be, obviously, ready to go."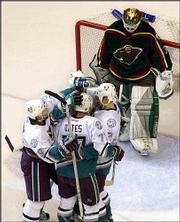 He's not concerned about any rust accumulating.
"Maybe you're not going to be as good in the first seven minutes as you should be, but the bottom line is, we know how to play. We'll stay sharp," Babcock said.
Adam Oates, who scored both Anaheim goals in the clinching victory over Minnesota, knows the coach will keep the Ducks on their toes.
"We obviously have some tough practices coming up," said the 40-year-old Oates. "I think both teams (the Devils and Senators) are really good. They're obviously playing great hockey to be in the position they are, and we'll deal with them when we can."
Giguere lost his bid for an unprecedented fourth straight playoff shutout early in Game 4 against Minnesota. But after giving up the goal to Andrew Brunette on a deflection during a power play on the Wild's fourth shot of the game, he stopped their next 21.
The goal was the first allowed by the Anaheim goalie since the third period of the final victory over Dallas in the second round.
"I knew at some point, there was going to be a goal some way, somehow," said Giguere, who turned 26 Friday. "It had become kind of a distraction, with people asking about it. I feel the team did an unbelievable job playing in front of me. They made my job so much easier."
Oates rates the goalie's postseason as "fantastic."
"We obviously wouldn't be here without him. We believe in him. He's carried us this far," he said.
The one goal by Minnesota was the fewest ever in a best-of-seven series. The Wild came in with a playoff-high 42 goals. Two teams -- Boston in 1935 and Montreal in 1952 -- were held to two goals in a series.
"To give up one goal in a series is unbelievable," Babcock said.
Minnesota's Jason Marshall thought so, too.
"J.S. is outstanding. He's been the best," Marshall said.
Giguere's scoreless streak ended at 217 minutes, 54 seconds -- the fifth longest playoff string in NHL history and the longest since Montreal's Gerry McNeil went 218:42 in 1951.
Copyright 2018 The Associated Press. All rights reserved. This material may not be published, broadcast, rewritten or redistributed. We strive to uphold our values for every story published.