When a 7-year-old Douglas County girl drove a truck into a creek Wednesday, she set into motion a chain of events that led to the arrest of a man suspected of being a scam artist.
"A little 7-year-old -- bald headed, mentally handicapped -- got this guy," said the girl's father, Rick Falley.
About 3 p.m. Wednesday, a stranger arrived at the Falley residence north of Lawrence near Midland Junction. He left his black GMC 3500 truck running and unoccupied as he got out to talk to Rick Falley about asphalt repair.
"He told me he was doing some work down the road a ways, paving driveways, and that he had an extra load of asphalt, and he'd sell it to me real cheap," said Falley, who lives in the 2000 section of East 1400 Road.
While the men talked at the end of the driveway, Falley's daughter, Cynthia -- a first-grader at New York School -- climbed behind the wheel of the truck. Cynthia, who lost all her hair in infancy, is mentally comparable to a 4-year-old, Falley said.
But she has the soul of a truck driver.
She turned the truck off, started it again, put it in gear, drove it around the back of the family's house, scraped the side of a trampoline and crashed into a ravine, Rick Falley said.
Cynthia wasn't injured, but the truck suffered minor damage. The asphalt salesman, 22-year-old Joshua James Lee Werner of Whitesboro, Texas, grew agitated and decided to call the Sheriff's Office, Falley said.
"He was just mad because a 7-year-old got into his truck and drove it into the ditch," Falley said. "He said, 'Fine. I'll go call the law.'"
About the time the deputy finished taking the accident report, Lt. Don Crowe of the Douglas County Sheriff's Office got a call from an acquaintance in the Kansas attorney general's consumer-protection division.
The man was calling to warn Crowe that the office had received complaints about an asphalt scam in Douglas County. Crowe relayed that information to a patrol sergeant.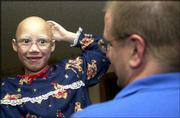 "They said, 'Wow, it looks like that's what we had here,'" said Lt. Ken Massey, a spokesman for the Sheriff's Office.
Because Werner's cell phone number was on the accident report, officers had all the information they needed to set up a sting.
They called Werner and told him the department forgot to take down some information about the wreck, Massey said.
Officers then met him at Fast Eddy's Car Wash, 1020 N. Third St., and arrested him on suspicion of failing to have the license required for a transient merchant -- someone who does business in Kansas fewer than six months out of the year.
Shortly afterward, Atty. Gen. Phil Kline filed a civil suit against Werner and his company, American Paving Co., alleging deceptive business practices. Bill Hoyt, a spokesman for Kline's office, said the company could be liable for up to $10,000 for each solicitation or sale.
Hoyt said he couldn't say how many people claimed they were harmed by the business.
Werner is free on bond and scheduled to make a first appearance May 28 in Douglas County District Court.
Massey said the case was a good example of what law-enforcement agencies could accomplish when they communicated well.
He also admitted the arrest might not have happened without the curiosity of Cynthia Falley.
"That got the ball rolling," Massey said. "Without the girl having the minor accident, chances are, to be quite frank with you, we wouldn't have found him."
Copyright 2017 The Lawrence Journal-World. All rights reserved. This material may not be published, broadcast, rewritten or redistributed. We strive to uphold our values for every story published.