Baghdad, Iraq — A few months before the war, Saddam Hussein freed some 100,000 prisoners, most of them hardened criminals.
Now, with security tenuous across Iraq and Baghdad plagued by crime and fear, U.S. officials are blaming that general amnesty for much of the chaos.
In interviews across the capital Friday with more than 30 Iraqis, many agreed.
"Security will not return to the country until all the prisoners return to jail," said Khalil al-Baaj, a police lieutenant who said he was stalked by a freed killer.
Even though Baghdad police have begun returning to work -- and the U.S. Army sent in 2,000 military policemen -- many of the 5 million residents of the capital are afraid to venture out at night. Reports stream in of kidnappings, rapes and carjackings.
"I've stopped looters, run political parties out of abandoned buildings, caught people with large amounts of cash and weapons," said U.S. Army 2nd Lt. Cody Williams. The work, he said, was aimed at "trying to keep the bad guys off the streets so the good guys can have normal lives."
Williams said many of the people he had arrested were former prisoners who "are making their way back to prison."
Yet he also said most of the ex-convicts were not looting but carrying out violent crimes -- armed robbery, murder, kidnapping.
In Baghdad, many people say they resent the Americans for not stopping the chaos. Others are asking different questions. How much of the unrest, they wonder, is related to that amnesty and the criminals it set free?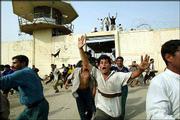 "Saddam probably felt he would gain popularity with the people and win their support in the war. ... He probably hoped the armed gangs would confront the Americans," said Capt. Hadi al-Dilaymi, a Baghdad police officer.
"It was wrong to free the criminals," said Barakat al-Shumari, 40, who keeps her daughters inside because she fears kidnapping. Since Saddam's fall, police say, at least eight women have been reported raped in Baghdad, a city where rape reports are rare.
Recent comments by U.S. officials as high as Defense Secretary Donald Rumsfeld suggest the American occupying force has decided to make the amnesty an issue -- in part to stanch criticism that American forces aren't doing enough to keep the peace.
Wednesday, speaking to members of Congress, Rumsfeld explicitly blamed ex-prisoners for the lootings and other crimes. "They have to be rounded up and put back in," he said. "That takes a little time. You don't do that in five minutes."
L. Paul Bremer, the new top American in Iraq, is echoing that notion in his initial days of overseeing the country. He has promised to round up thousands of criminals and has said aggressive police patrols had made 300 arrests in two days.
Bremer didn't say whether the arrests were of ex-convicts, but he pointed out that occupation authorities had resumed jail operations, and two courts are hearing cases.
Copyright 2017 The Associated Press. All rights reserved. This material may not be published, broadcast, rewritten or redistributed. We strive to uphold our values for every story published.