Washington — Al-Qaida is out to prove it is still a force, U.S. counterterrorism officials said Friday, suggesting the bombings in Saudi Arabia and terrorist threats in Africa and Asia are part of a coordinated effort to strike lightly defended targets.
At this point, those targets do not appear to include places within the United States, officials said.
Late Friday, four car bombs exploded in the Moroccan city of Casablanca, leaving at least 24 people dead or wounded, Moroccan security officials said. The four sites were near consulates and restaurants in the center of the coastal city, Morocco's economic center.
U.S. officials said the blasts occurred near a synagogue. "No U.S. government facility was targeted," U.S. State Department spokesman Joanne Moore said in Washington.
Attacks on U.S. soil are not out of the question, but the Casablanca attacks are likely to reinforce intelligence reports pointing toward attacks overseas, where al-Qaida operatives are more numerous and security measures less effective.
"We have no credible, specific intelligence information that indicates similar attacks are planned to take place in this country," Department of Homeland Security spokesman Brian Roehrkasse said earlier. "We will not raise the threat level at home at this time."
U.S. and British authorities have warned of threats in East Africa, particularly Kenya, and in southeast Asia, particularly Malaysia. And the group that conducted this week's attack in Riyadh, Saudi Arabia, remains at large and could strike again.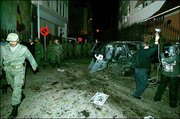 U.S. officials also have received an unconfirmed report that a possible terrorist attack may occur in the western Saudi city of Jiddah.
The State Department said it could not judge the credibility of the threat, but diplomatic families living in Jiddah's Alhamra district were moving out, according to the warning report.
After Monday's attacks, U.S. officials said some intelligence warned of a series of strikes.
While deadly and well-coordinated, the Riyadh strike lacked some of al-Qaida's trademarks -- particularly its usual attempt to hit a well-defended or highly visible target in an attempt to create massive casualties.
This may reflect directives from Osama bin Laden and other senior al-Qaida leaders, thought to be hiding.
Copyright 2018 The Associated Press. All rights reserved. This material may not be published, broadcast, rewritten or redistributed. We strive to uphold our values for every story published.