OAKLAND, CALIF. — On the way to earning his 298th career victory, Roger Clemens needed a quick reminder from New York Yankees pitching coach Mel Stottlemyre.
Clemens pitched shutout ball into the seventh inning and led New York past the Oakland Athletics, 5-2, Saturday.
"Mel mentioned that I didn't need to look for anything extra," Clemens said of a late-inning visit to the mound.
"He thought I was trying to get a little extra, which I was, and he said my stuff was plenty good enough to get the job done," he said.
Clemens ended his two-game losing streak by allowing one run and six hits in 62¼3 innings.
The Rocket (5-2) struck out five, leaving him 41 short of reaching 4,000. He walked one.
"Roger is probably the one guy who's not looking ahead to 300," Yankees manager Joe Torre said. "He's pitching every game with quality. He's got that something inside that you have to be born with."
Clemens, a six-time AL Cy Young winner, won his rematch with Barry Zito, who won the award last year. Zito threw eight sharp innings at Yankee Stadium last Sunday in a 2-0 win.
"He had great stuff last week, too," A's manager Ken Macha said of Clemens. "It looked like he had a great split finger and great movement."
The victory kept Clemens on pace to possibly win No. 300 at his old home, Fenway Park. Clemens is scheduled to pitch again next weekend against Texas, then make his following start at Boston.
"It's getting closer and a couple of guys were busting my chops saying 'not bad for Cy Old,"' said Clemens, referring to a nickname pinned on him by A's infielder Scott Hatteberg last week.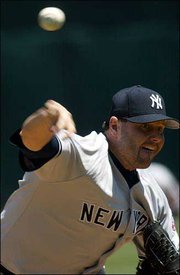 "Sometimes you can't argue with the truth. I'm 40 now. That's the way it is," he said.
Mariano Rivera pitched the ninth for his third save.
Zito (5-3) allowed four runs on five hits over six innings. He walked four and struck out seven.
White Sox 4, Mariners 3
Seattle -- Carlos Lee hit a solo home run in the fifth and scored the go-ahead run in the seventh to help Chicago beat Seattle. Colon snapped a three-game losing streak and defeated the Mariners for the first time in almost three years. Colon allowed six hits and two walks, leaving after Edgar Martinez's leadoff single in the ninth. Damaso Marte recorded three outs for his fourth save, helped by a baserunning blunder by pinch-runner Willie Bloomquist. Bloomquist was caught in a rundown between second and third after Lee trapped a fly to left by Mike Cameron.
Blue Jays 7, Angels 4
Anaheim, Calif. -- Vernon Wells hit a tiebreaking two-run homer to trigger a five-run sixth inning and Mark Hendrickson beat Anaheim for the second time in seven days. Hendrickson (3-4), a former NBA player, allowed two runs and six hits over six innings. He limited the defending World Series champions to four hits and two runs over six innings in an 8-2 win at SkyDome. Ramon Ortiz (4-4) pitched 51¼3 innings and allowed seven runs on eight hits, including Wells' eighth home run and Greg Myers' fourth. Ortiz has surrendered eight homers in 46 innings this year.
Indians 6, Rangers 4
Arlington, Texas -- Cleveland starter C.C. Sabathia beat Texas for the fifth straight time and kept Rangers slugger Rafael Palmeiro from hitting his 500th homer. Sabathia (2-2) is 5-0 with a 2.48 ERA in five career starts against Texas, including his only two wins this season.
The left-hander allowed five hits before leaving after seven innings with a 5-2 lead. Six days earlier, Sabathia had a complete-game 3-1 win over Texas when he allowed just four hits.
Palmeiro, in his second game since hitting No. 499 Thursday, went 0-for-3. He walked in the eighth after Juan Gonzalez and Herbert Perry had consecutive doubles for a run.
Red Sox 6, Twins 5
Minneapolis -- Manny Ramirez had three hits and scored the go-ahead run in the eighth inning as Boston defeated Minnesota, ending the Twins' five-game winning streak. Matthew LeCroy homered twice for the Twins.
With the score tied at 4, Boston loaded the bases off Juan Rincon (1-1) with one out in the eighth. Jeremy Giambi hit a short fly ball to center fielder Torii Hunter, who made a strong throw home to keep Ramirez on third. But when the ball short-hopped catcher A.J. Pierzynski and rolled toward the mound, Ramirez raced home to put Boston ahead. Hunter was charged with an error.
The Red Sox added a run in the ninth on Nomar Garciaparra's sacrifice fly.
Devil Rays 3, Tigers 1
St. Petersburg, Fla. -- Seth McClung allowed one run in seven innings and Aubrey Huff homered as Tampa Bay beat Detroit. McClung (3-1) allowed five hits, struck out nine and walked two in his third career start and 10th appearance overall.
Huff put the Devil Rays up 1-0 with his ninth homer in the first inning. It was his seventh shot in a span of 49 at-bats.
Copyright 2018 The Associated Press. All rights reserved. This material may not be published, broadcast, rewritten or redistributed. We strive to uphold our values for every story published.