A Lawrence man murdered his 76-year-old father by neglecting him, Douglas County prosecutors alleged Wednesday.
Henry F. Harrell died Nov. 20, 2002, of pneumonia and complications from bed sores, one of which was nearly 6 inches wide and penetrated to the bone, according to an autopsy.
At the time of the death, his son, Timothy D. Harrell, 44, said he'd done his best as a caretaker.
But Assistant Dist. Atty. Ruth Ritthaler alleged in court Wednesday that Harrell unintentionally murdered his father by showing "extreme indifference for the value of human life."
Timothy Harrell faces charges of second-degree murder and mistreating a dependent adult. His wife, Berdella I. Harrell, 40, faces a misdemeanor charge of mistreating a dependent adult.
The two lived with Henry Harrell at Hampton Court Apartments, 1722 W. 24th St. Prosecutors said Timothy and Berdella Harrell withheld necessary treatment from Sept. 1, 2001, until Nov. 7, 2002, the day Henry Harrell arrived at Lawrence Memorial Hospital in critical condition.
He later died there.
According to a coroner's report, Henry Harrell died of complications of decubitus ulcers, commonly known as bed sores, "in association with acute pneumonia."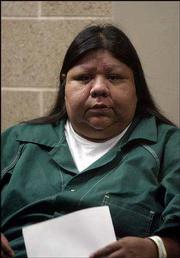 He was inactive because of dementia, which put him at risk of developing the sores and pneumonia, coroner Erik Mitchell wrote.
"He would have required care from others in order to prevent the processes that acutely resulted in his demise," Mitchell wrote.
Police began investigating the case after notification from a state adult protective services worker.
A few days after his father's death, Timothy Harrell told the Journal-World his father wanted to live with him and didn't want to go to a nursing home.
"Everything might not have turned out perfect like I wanted it to, but I did the best I could with him," Timothy Harrell said.
Prosecutors decided to charge Harrell and his wife after reviewing medical records, police reports and other information, Dist. Atty. Christine Kenney said.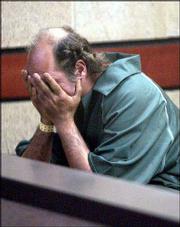 Police arrested the two earlier this week and booked them into the Douglas County Jail, where they remained Wednesday evening.
Both appeared by videoconference Wednesday before Douglas County District Judge Pro Tem Peggy Kittel, who set their next court date for May 14.
Timothy Harrell asked for his bond to be reduced from $10,000, saying he had a job and children; Kittel refused. Berdella Harrell's bond is $2,500.
Timothy Harrell also faces charges of possession of marijuana and failure to pay a drug-tax stamp.
Copyright 2018 The Lawrence Journal-World. All rights reserved. This material may not be published, broadcast, rewritten or redistributed. We strive to uphold our values for every story published.