Anarchists partied in the streets of Lawrence Saturday afternoon -- simply because they could.
"We're reclaiming the streets," David Moore, 18, said. "They are our streets. We're here for a good time."
About 75 people -- most in their teens and 20s, most identifying with the Black Cat Collective or Lawrence Anti-Imperialists -- marched down Massachusetts Street from South Park to 23rd Street about 2 p.m., when they set up a block party in the intersection.
They played bongos, didgeridoos and guitars. They played badminton and "anarchist, anarchist, goose," a takeoff on "duck, duck, goose."
"They're our streets," said a young woman who identified herself only as Jonas. "Workers build these streets for us. We should be able to play in them."
The group then marched up the right-hand side of Massachusetts Street to Seventh Street, where they repeated their block party.
Police, who escorted the marchers for protection, stood by and diverted traffic as the anarchists played in the street. They reported no incidents.
The group marched back to South Park and dispersed around 3:30 p.m.
Some marchers took the occasion to send an antiwar message. A similar downtown event March 23 was focused solely on ending the war in Iraq. Two marchers Saturday held a large sign saying, "Peace must come from the people."
The block party also was similar to an August 2001 event, when several hundred people partied in the 600 block of Massachusetts Street.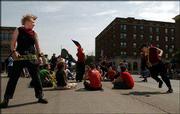 Reaction from onlookers was mixed. Several motorists were visibly frustrated when they were diverted from 23rd Street.
Downtown, one woman called a friend on a cell phone.
"Do you hear that?" she asked. "These people have too much free time."
Jim Lee, Lawrence, decided to come out of La Prima Tazza, 638 Mass., where he was having coffee, to watch the festivities.
"It's good feelings," he said. "It's kind of a pleasant thing. It's all right to me. If I were driving to work, it would be worse. But traffic in Lawrence is always bad, and stuff like this is always going on. You've got to get used to it."
Ekhym Wethered, 36, said he drove to Lawrence from his home in Kansas City, Mo., to march down Mass.
"We've got to take a stand in the community," he said. "We want to take steps to demonstrate that we can build something beyond war. Instead of being violent, we're going to party."
Copyright 2017 The Lawrence Journal-World. All rights reserved. This material may not be published, broadcast, rewritten or redistributed. We strive to uphold our values for every story published.