Katie Renwick went 3-for-6 with four RBIs and was the winning pitcher in the nightcap as Haskell Indian Nations University split a college softball doubleheader with Oklahoma Wesleyan Wednesday at Haskell.
Oklahoma Wes won the opener, 9-5 in eight innings, but HINU bounced back to take the second game, 8-7.
Kim DeRoin, the loser in Game One, was 5-for-8 on the day with a home run, and Jamie Tanner was 3-for-8 with an error-aided bunt home run.
Haskell (10-3 overall, 1-1 Midlands Collegiate Athletic Conference) will play host to Friends for a doubleheader today, then head to Avila for a tournament this weekend.
Oklahoma Wes. 9-7, HINU 5-8
First Game
Oklahoma Wesleyan 300 110 04 -- 9
Haskell 230 000 00 -- 5
W -- Andrea Smith. L -- Kim DeRoin, 6-3.
Second game
Oklahoma Wesleyan 020 011 3 -- 7
Haskell 203 003 x -- 8
W -- Katie Renwick, 3-0. L -- Brittany Doward.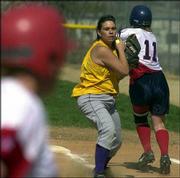 Copyright 2018 The Lawrence Journal-World. All rights reserved. This material may not be published, broadcast, rewritten or redistributed. We strive to uphold our values for every story published.