Lawrence High School art teacher Pat Nemchock is going out with a flourish.
She was surprised Wednesday in the middle of an LHS drawing class by Supt. Randy Weseman's announcement of Nemchock's selection as the district's 2003 Secondary Teacher of the Year.
"I'm just totally shocked," said Nemchock, who will retire in May after 29 years at LHS and 34 as a teacher. "It's been an honor to be at Lawrence High School all these years. I love the kids here."
The district on Tuesday chose Brenda Meyers, a second-grade teacher at Quail Run School, as 2003 Elementary Teacher of the Year.
Meyers will be nominated for the state Teacher of the Year competition, but Nemchock's retirement makes her ineligible.
Nemchock, who teaches drawing and painting, is perhaps best-known for helping students develop portfolios necessary to apply for college art scholarships.
Last year, LHS seniors earned $1.5 million in art scholarships.
She also is renowned for her motivational skills.
"Pat's motivation is for the students to be prepared to go to school and find careers in which they can excel and enjoy," said Wendy Vertacnik, an LHS art teacher.
Weseman said he viewed Nemchock as one of Lawrence's best teachers.
"This is something I've known my whole career," Weseman said.
Nemchock previously received the Governor's Award and the Lawrence Educator of the Year award from the Lawrence Schools Foundation.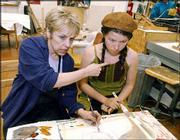 Copyright 2018 The Lawrence Journal-World. All rights reserved. This material may not be published, broadcast, rewritten or redistributed. We strive to uphold our values for every story published.