Cairo, Egypt — From mosques to the Internet, Muslims around the world are increasingly expressing anger at the U.S. attack on Iraq in radical religious terms.
"The war between right and wrong has begun. This is a jihad," a holy war, Syed Ahmed Bukhari, one of India's most influential Islamic clerics, said in a sermon in New Delhi that drew cries of "God is great!" from worshippers.
A London-based Arabic Web site known for extremist commentary posted a fatwa, or religious ruling, declaring any Muslim ruler or official who helps the "aggressor forces" in the war on Iraq to be an apostate -- dangerous words when some fundamentalists say apostasy -- the renouncing of Islam -- should be punished by death.
The banned Muslim Brotherhood, which wants to transform Egypt into an Islamic state, is gaining exposure at anti-U.S. protests on a scale rarely seen in Cairo.
Dia'a Rashwan, an expert on radical Islamic groups at Egypt's Al-Ahram Center for Political and Strategic Studies, said he has noticed a trend as he navigated Web sites and chat rooms in recent days.
"Now we have many calls to jihad, and those calls aren't only coming from what we usually call radicals or extremists," he said. More moderate clerics are using similar language, as are Islamic thinkers who usually confine themselves to political analysis, not calls to arms, he said.
The mix of religious and political rhetoric when it comes to Iraq is worrying for pro-Western states like Egypt, whose secular governments have historically been at odds with radical Islam, and Saudi Arabia, a conservative kingdom that according to a strict interpretation of the Quran cuts off the hands of thieves and forces women to fully veil themselves in public.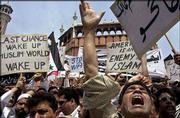 Saudi Arabia, which has quietly aided the U.S. war effort, fears a backlash from extremists. In his Friday sermon broadcast on Saudi state television, the imam of Mecca urged worshippers to shun disputes and obey their rulers. A day earlier, a prominent preacher appeared on Saudi TV to tell Saudis that holy war could be waged just as effectively by boycotting U.S. products.
Ever since the United States girded for a war on terrorism following the Sept. 11 attacks, there have been Muslims accusing it of waging a war on their religion, despite constant U.S. protestations to the contrary. President Bush's use, shortly after Sept. 11, of the term "crusade" against terrorism has been thrown back at him repeatedly as evidence of anti-Islamic prejudice, even though he quickly repudiated the word.
Fundamentalists commonly promote Islam as the solution to the weakness and disunity of the Arab world. In the West, the Muslim voices that make the headlines are those that denounce Western values, attack Jews in anti-Semitic language and proclaim the superiority of Islam.
Earlier this month, the Islamic Research Center at Cairo's prestigious Al-Azhar University, decreed: "If the enemy descends on the land of Muslims, jihad becomes an Islamic obligation ... because our Arab and Islamic community will be facing a new Crusade targeting our land, honor, faith and nation."
Copyright 2018 The Associated Press. All rights reserved. This material may not be published, broadcast, rewritten or redistributed. We strive to uphold our values for every story published.