The eyes of some of the best and brightest in the Russian pharmaceutical industry have been on the Lawrence area for the past month.
The Lawrence Breakfast Optimist Club has played host to a delegation of 11 Russian pharmaceutical leaders participating in a program designed to enhance productivity in several of Russia's fledgling industries.
Irina Nelyubova, facilitator for the group, said the Russian pharmaceutical industry fell into that category. The industry just became a private enterprise in the early 1990s. Before, it was controlled by the government.
"The major difference we have seen is that your industry is 200 years old and ours is 10 years old," Nelyubova said.
Nelyubova said Russian pharmacists were eager to take ideas from the United States in an effort to improve their own operations. However, Nelyubova said the group was concentrating on smaller details rather than trying to come up with major changes to the Russian health care system, which is significantly different from the U.S. system.
"We hope we'll take back some very good ideas, but really they're looking for little things to enhance their own businesses," Nelyubova said. "Our goals are pretty humble. We are trying to change the system from the bottom up."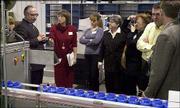 Most members of the Russian delegation are pleased with how their system is working, said Marvin Bredehoft, owner of Lawrence's Medical Arts Pharmacy and a group host.
For example, the Russian group is not used to the American system where people have to pay for their hospital stays.
In Russia, hospitalization costs are paid by the government. But unlike the American system, the bulk of pharmaceutical costs that aren't related to a hospital stay are paid for by the individuals rather than by insurance companies, Nelyubova said.
Bredehoft said many of the Russian pharmacists told him their biggest challenge was lack of money to invest in the newest technologies.
"They've really been impressed with a lot of the systems we've seen on our tours, but several of them have told me that they can't afford it yet," Bredehoft said. "I have heard that quite a bit."
The delegation arrived Feb. 27 and is leaving Sunday. They toured three to seven locations a day during the Lawrence visit. The group visited area pharmacies, Lawrence Memorial Hospital and Kansas University Medical Center. The Russians also toured a Lawrence bank to learn about small-business loans.
Copyright 2018 The Lawrence Journal-World. All rights reserved. This material may not be published, broadcast, rewritten or redistributed. We strive to uphold our values for every story published.