In Art Yager's thinking, there's no tool like an old tool. And he should know.
He's 86, and he's been enthralled with tools since he was a boy helping his father, a carpenter.
Like other collectors of tools, he enjoys the history, the feel and the design of old implements. Even though he recently has downsized his collection to a couple of hundred pieces, there are drawers and walls filled with antique saws, planes and hammers. It's hard to part with them and, besides, he still uses some in his shop.
"I was 10 years old when my dad said my mother wanted a plant stand for a fern to set on the front porch," explains Yager, of Fresno, Calif. "He asked me to build it."
With a hacksaw and some cast-off wood, he fashioned a three-legged stand. "It wouldn't win any prizes in a woodworking contest, but Mom liked it," he says with a smile. "I guess Dad did, too. He took us all out for ice cream."
Earning his parents' approval for something he fashioned with his hands and a simple tool whetted the young man's appetite for carpentry.
He tagged along on jobs with his father. At 14, he got his first pair of white carpenter's overalls. In the loops, he hung his first hammer and a wooden four-fold box ruler (a forerunner of the retractable tape measure).
Work, tools and materials were scarce during the Depression, so after graduating from high school in 1935, Yager assisted his father when there was enough work for both of them and worked for a local builder when there wasn't.
Yager bought his first saw, made in Sweden, in 1938. After it was ruined by a saw shop, though, he got rid of it. It hurt him to see it that way.
"Tools are part of who I am," he says reflectively. "They were the first means I had of making a living. A good carpenter respects his tools."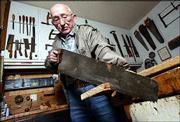 After World War II, when people started building houses again, Yager and his father formed Yager & Yager. Art Yager kept the company going after his father died in the early '50s and later went to work for another builder until his retirement at age 65.
Like fellow members of the San Joaquin Fine Woodworkers Association, Yager became a serious tool collector after retiring. Until recently, he scoured yard sales, auctions, antique stores and sales and flea markets to find the tools that had lost favor with their owners. Association members meet monthly to talk about tools, woodworking and to see each other's workshops.
Tools bring 'quiet time'
Retiree Ben Douglas of Clovis, Calif., president of the woodworkers association, not only respects his tools, he feels a certain amount of reverence for them.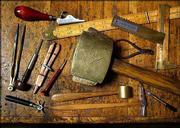 "I am captivated by wood and tools," he says. "Working with hand tools is a quiet time, a time of reflection. It's just you and the tool and the wood.
"Power tools are wonderful, too. But they are noisy, and you are tense when you use them because you don't want to cut off any fingers or ruin a piece of wood. When you take a finely tuned hand plane and run it down the length of a board and the shavings come off, it is a great feeling."
Tool aficionados know a lot about the old implements, but say there's still more to learn and see.
Douglas likes going to workshops conducted periodically in the San Francisco area by James Kernov, head of the fine woodworking program at College of the Redwoods in Fort Bragg, Calif. Kernov and his students sell furniture they make at school and Kernov has written books on woodworking.
Yager enjoys antique shows that feature old. He also belongs to the national Early American Industries Association so he can receive the organization's publications about old tools.
Not for sale
Ed Mincy of Fresno, a retired woodshop teacher, has his own mini-museum.
A 24-by 24-foot room above his garage and an enclosed patio are filled with display cabinets that house his 2,200 hand tools. Someone offered Mincy $18,000 for a set of bronze Stanley planes, but he didn't take it. "Some of the tools are so beautiful, I just love looking at them," he says.
The implements are cataloged and Mincy keeps up on their value by reading trade publications. Not all of his tools are behind glass. He has a workshop full of his everyday tools.
"Oh, sure, I still use tools," says Mincy, 75. "I'm always building or fixing something."
He also travels the country if he sees an ad for a tool that he wants. He has flown to places on the East Coast, as well as France, to buy tools.
"Everyone likes to see his collection," says Douglas of Mincy's tools.
Copyright 2018 The Lawrence Journal-World. All rights reserved. This material may not be published, broadcast, rewritten or redistributed. We strive to uphold our values for every story published.