Santa Fe, N.M. — For more than two decades, artist Lynda Feman has watched locals struggle to make ends meet while money rolled into this picturesque resort that caters to the champagne tastes of tourists.
"Santa Fe is impossible," said Feman, peddling her ceramic artwork on Santa Fe Plaza. "I've lived here for 25 years and I'm maxed out. It needs to change."
The frustration has led to a fight pitting some of Santa Fe's biggest employers against its poorest residents over the nation's most sweeping "living wage" ordinance.
Approved last month during a heated meeting of the City Council, the law raises hourly pay for thousands of workers to at least $8.50 in January, more than $3 above the federal minimum of $5.15. The minimum is supposed to rise even more, to $10.50, by 2008.
The council's action makes Santa Fe the only municipality in the country extending a mandatory minimum wage to all businesses with at least 25 employees. Tourist hotels, trendy shops and high-end restaurants will be affected, as will fast-food joints and discount stores.
Many U.S. cities have living-wage laws, but they apply only to municipal workers or employees at businesses that contract with a city or county. A living wage proposal is one issue candidates are debating in this spring's Lawrence, Kan., City Commission election.
This high-desert town sits at the foot of the Sangre de Cristo Mountains. Its twisting, narrow streets, dotted with pinon trees, are lined with quaint adobe homes and shops. At the heart of town is the bustling plaza, where American Indians and others sell turquoise jewelry and pottery. Nearby are several old churches, galleries and museums.
It is also New Mexico's capital and home to the Palace of the Governors, once the seat of the Mexican territorial government and now a history museum.
Nearly a quarter of the city's 26,000 nongovernment workers make less than $10.50 an hour, and supporters of the ordinance insist a higher minimum is desperately needed to help a work force trapped in low-paying hospitality industry jobs.
"People who live in Santa Fe these days work two or three jobs to make ends meet," said Frank Montano, a former city councilman who has been pushing for the wage increase.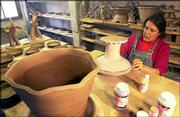 Santa Fe business owners, however, have filed a lawsuit claiming the living-wage ordinance violates state law and the city code.
Joe Hoback, owner of the Pink Adobe restaurant, predicted higher prices and cutbacks in employee perks.
"I'm going to have to spread the pain around," he said. "The majority of my staff is very much against this because they want to have a choice on how they are going to receive their compensation."
Michael Chaplin, owner of a construction business, argued that city leaders had no right to tell him how much to pay his workers.
Other business leaders predict job losses, and some see companies folding or moving elsewhere, especially in an already tight tourist economy.
"We're going to have to consider all the possibilities to maintain a competitive advantage," said Jim Weyhrauch, chief executive of Nambe Mills, which sells handmade metal bowls and candleholders.
Last year, New Orleans and Santa Monica, Calif., enacted living-wage laws nearly identical to Santa Fe's, but both were overturned -- by the state Supreme Court in Louisiana and by a narrow margin of voters in Santa Monica.
Copyright 2018 The Associated Press. All rights reserved. This material may not be published, broadcast, rewritten or redistributed. We strive to uphold our values for every story published.