Andy Klebenstein Jr. stops by the Community Drop-In Center every morning for a cup of coffee. Homeless since December, he's also received help there applying for housing and educational assistance.
"It's the best place in the world," Klebenstein said.
But the Community Drop-In Center, which offers a place for Lawrence's homeless to grab food, a shower, counseling and job-search assistance, is facing financial problems.
The center, 214 W. 10th St., is serving twice as many people -- up to 70 a day -- as it did in 2001. The landlord stopped paying natural gas and water utilities at the beginning of the year and passed the responsibility to the center, at a cost of more than $200 a month. And it's likely the center soon will face a loss of $5,000 a year in federal grant money distributed through the city.
"The resources are gone," said Tami Clark, the center's director. "The cupboards are bare. It's a real struggle to provide food and toiletries and services for twice as many people as we served a year and a half ago."
In 2001, the center served about 33 people a day. So far this year, between 55 and 70 people are showing up each day.
"With the economy diving, I've seen a real increase of people who were formerly on the cusp of homelessness," Clark said. "They were living paycheck-to-paycheck, and when they lose even one paycheck, they don't have a home."
Margene Swarts, community development manager for the city, said the Community Drop-In Center wasn't the only agency facing a loss of funding. The city received $990,000 in Community Development Block Grant funds this year, down from $1.1 million last year. She said other agencies, including the Salvation Army and Housing and Credit Counseling Inc., also were taking cuts.
"Everybody is getting a little less," Swarts said.
That doesn't help Clark -- or the homeless people she serves.
"We're really needing help," she said, "filling the gap."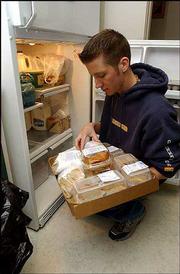 Copyright 2018 The Lawrence Journal-World. All rights reserved. This material may not be published, broadcast, rewritten or redistributed. We strive to uphold our values for every story published.