Mike Hill was grateful to see the sun.
"Yeah, a little bit," Free State High's baseball coach said with a laugh.
Monday's warm temperatures and clear skies allowed the Firebirds to open practice outside, something Hill wasn't sure would happen last week.
But thanks to some wind and sun, the FSHS field wasn't too soggy.
"It's not bad at all. It's playable," Hill said.
Nearly all of the city's sports programs took advantage of the warm weather on the first day spring sports officially were allowed to begin.
Free State's baseball, girls soccer and track teams were outside, while boys tennis and softball practiced inside. Boys golf practices will begin next week, but coach Jack Schreiner -- who still is coaching the boys basketball team -- will have a meeting after school today in his classroom.
Lawrence High's teams had the same routine Monday: the track, girls soccer, baseball and boys tennis teams were all outside, while softball practiced inside for an hour, but did venture to the LHS track to run its traditional start-of-the-season mile.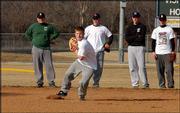 "Today it was just too nice to not get it out of the way," LHS coach Reenie Stogsdill said.
Both schools' baseball and softball teams will hold tryouts this week and announce varsity and junior varsity teams Thursday.
When it comes to track, the weather didn't really matter. After all, both LHS and FSHS long-distance runners had been training outside through the winter.
"Typically, we're outside anyway, but this makes it a little easier," said FSHS track coach Steve Heffernan, who had about 70 athletes at Monday's practice.
Copyright 2018 The Lawrence Journal-World. All rights reserved. This material may not be published, broadcast, rewritten or redistributed. We strive to uphold our values for every story published.