Baghdad, Iraq — Six British soldiers were killed and eight wounded in southern Iraq in a series of attacks on coalition forces Tuesday that marked the deadliest day since the fall of Saddam Hussein's regime.
The casualties were a shock to British troops occupying the largely Shiite south, which until now had been essentially free of the daily hit-and-run attacks plaguing American soldiers in central and western Iraq. British troops have felt so secure they have been patrolling the country's second-largest city, Basra, without flak jackets or helmets.
The U.S. military said insurgents had increased their attacks on American and British troops: 25 over a 24-hour period, including a firefight in Ramadi, west of Baghdad, that killed three Iraqis and wounded an American soldier.
The violence fueled concerns that Iraq is descending into a guerrilla war despite U.S. insistence that resistance is local, not centrally organized.
The British casualties occurred in the town of Majar al-Kabir, about 180 miles southeast of Baghdad and just south of the city of Amarah.
Defense Secretary Geoffrey Hoon told Parliament in London that the British soldiers military police on a mission to train Iraqi police were apparently killed in a police station in the town.
Earlier, a British army spokesman in Basra said the soldiers were killed by Iraqi fire.
Elsewhere in the same town, a "large number" of Iraqi gunmen opened fire on a British patrol Tuesday with rocket-propelled grenades, heavy machine guns and rifles, Hoon said.
The British returned fire, and one soldier was wounded in the fight.
A rapid reaction force, including Scimitar light tanks and a Chinook CH-47 helicopter, came to help the ground troops but also came under fire, Hoon said. Seven people on board the helicopter were wounded, three of them seriously, the government said.
Hoon said commanders were investigating whether the deaths and the ambush were connected.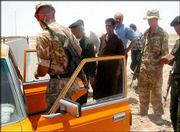 Copyright 2018 The Associated Press. All rights reserved. This material may not be published, broadcast, rewritten or redistributed. We strive to uphold our values for every story published.