When it rains, as it did earlier this week, Jennifer Chapman doesn't sleep well.
"I worry about the buckets and the pots and pans we've got in the attic to catch all the leaks," Chapman said. "I'm afraid something's going to happen and we won't get to them until it's too late. It's bad enough as it is.".
Chapman, 28, is administrator at Achievement Place for Girls, an eight-bed group home for teenage girls about to become old enough to leave the state's foster care or juvenile justice systems.
In Kansas, children can and usually do leave foster care or juvenile-justice programs when they turn 18. Some are kept or allowed to remain until they turn 21.
Now in its 32nd year, the program is struggling to stay on top of its bills.
The roof leaks. The downstairs air conditioner quit working a week ago. The brakes on the van still work, but "they're starting to squeal," Chapman said.
Usually, Achievement Place for Girls can cobble together enough money to make ends meet. But this summer has proven especially difficult, Chapman said, because some of the program's contractors, caught in the state's budget squeeze, have been late with their payments.
"I haven't had anybody come look at the air conditioner because we don't have the money," Chapman said. "We will or we might, but we don't now."
She's working on a grant she hopes will pay for a new roof next year.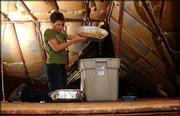 Achievement Place for Girls' need for repairs is not new. The house closed for a few months in 2001 for some large-scale repairs.
"It's a constant struggle," said John Clayton, vice president on the home's board of directors.
"We're constantly going from paycheck to paycheck," he said. "And then when you think you've finally turned the corner and everything is going to be wonderful and you're going to be in the black, something else comes along."
In years past, Clayton said, Lawrence contractors have been "great, nothing but generous."
The board, he said, has decided against selling the house at 637 Tenn. and building a new, low-maintenance facility.
"The problem you get into there is that the girls really like being so close to downtown and being part of the community," he said. "There are a lot of people who feel very strongly about holding on to it."
More than 100 years old, the house first belonged to James "Jimmy" Green, first dean of law at Kansas University.
Plymouth Congregational Church gave the house to Achievement Place for Girls in the early 1970s.
Most of the girls living in the house, Chapman said, have been in foster homes for many years and are within one to three years of "aging out" of the system.
"We are a long-term residential placement," Chapman said. "We try to give them a place that's stable, a place they can build on rather than always being moved around."
Most of the girls, she said, have no money and no family to support them.
Staff writer Dave Ranney can be reached at 832-7222.
Copyright 2018 The Lawrence Journal-World. All rights reserved. This material may not be published, broadcast, rewritten or redistributed. We strive to uphold our values for every story published.