Heavy rain fell on Lawrence Monday morning for the second day in a row, causing area farmers to have mixed emotions about the outlook for crops.
Rainfall totaled 1.38 inches at Lawrence Municipal Airport, further delaying farmers from finishing their wheat harvests because of wet fields. At the same time, farmers said the rain was welcome relief for crops such as corn and soybeans.
"They needed it for the money crops but not for the wheat," said Bill Wood, agriculture expert with K-State Extension in Douglas County.
Heavy rain also fell Sunday afternoon in Lawrence. The two-day rainfall total was 2.32 inches. Wood and area farmers said the rain didn't appear to have caused damage to the wheat fields.
The next chance of rain could come Wednesday, 6News weather forecaster Ross Janssen said. High temperatures today and Wednesday are expected in the low 90s with a cool-off into the 80s Thursday, he said.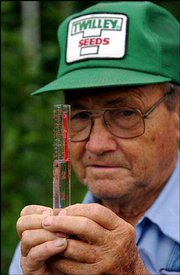 Copyright 2018 The Lawrence Journal-World. All rights reserved. This material may not be published, broadcast, rewritten or redistributed. We strive to uphold our values for every story published.