TUCSON, ARIZ. — Firefighters Monday moved bulldozers north of Mount Lemmon to try to stop a raging wildfire that destroyed more than 250 homes in a vacation community.
The blaze has charred more than 19,500 acres of pine forest on the mountain just north of Tucson and is only 15 percent contained, firefighters' spokesman Gerry Engel said.
Crews planned to use the bulldozers to fight the blaze's northward spread by digging a firebreak connecting roads, natural features and an area that already was burned over last year.
Firefighters also wanted to cut a line across the fire's southern flank, where crews battled Sunday to protect homes after burning embers started fires across earlier lines.
Officials said they appeared to have saved a University of Arizona observatory on top of Mount Lemmon.
They still were protecting what remained of Summerhaven, a mountaintop community where the fire roared through Thursday, destroying more than 250 of its 700 or so homes. But they shifted some crews Monday out of Summerhaven to intensify their efforts to keep the blaze from spreading.
"I think everything that hasn't burned is still at risk," said Jeff Whitney, deputy commander of the team fighting the fire.
The cause of the fire had not been determined. Investigators expect to survey the fire's point of origin today.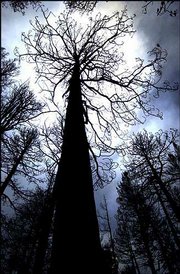 Copyright 2018 The Associated Press. All rights reserved. This material may not be published, broadcast, rewritten or redistributed. We strive to uphold our values for every story published.