For the Harry Potter faithful, the witching hour finally is past.
But as the lines late last night and early today in Lawrence bookstores and bookstores across the country show, the spell is cast.
Thousands of children staged midnight gatherings, waiting for their chance to purchase "Harry Potter and the Order of the Phoenix," the latest adventure of their favorite wizard-in-training. The book went on sale at 12:01 a.m. today.
Benjamin Wright, 13, Lawrence, was waiting Friday night at Borders Books, Music and Cafe, 700 N.H., but had to change strategy when he found out that all of the store's "Order of the Phoenix" books on hand had been reserved. His next stop: Hastings Books, Music and Video, 1900 W. 23rd St.
Wright said he had read each of the books in the series and had been eager to get "Order of the Phoenix" ever since he finished "Harry Potter and the Goblet of Fire."
"They're different than all the other books," Wright said. "The whole idea of magic is cool."
Retailers expect the fifth book in J.K. Rowling's seven-book series to shatter the record set three years ago by "Goblet of Fire," which sold 5.1 million copies in its first weekend. Publishers printed 8.1 million copies of "Harry Potter and the Order of the Phoenix" to meet anticipated demand this weekend.
"There's been big books, but nothing quite like this," said Pat Kehde, co-owner of Raven Bookstore, 8 E. Seventh St.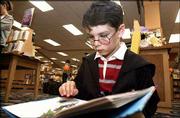 The popularity caused bookstores to plan special events Friday night while customers waited for the books to go on sale just after midnight.
The Raven served treats based on foods in the series to its Harry Potter customers. Hastings offered trivia games and pictures with Harry Potter cutouts. Borders offered costume contests, face-painting and a Fear Factor-like jelly bean tasting game for people standing in line.
Publishers kept the plot under lock-and-key to prevent leaks to the media. Retailers were not allowed to open shipments of the books until early today, causing a frenzy among Potter fans.
Kehde said she began taking reservations in October and had only 40 books to sell to those without a special order. At Borders all 1,200 copies of the book it received had been reserved by customers. Borders has begun a waiting list for back orders. About half of the more than 1,000 books Hastings received already had been reserved by readers.
Kehde said the series was so popular because it was enjoyable to both adult and child readers.
"I think parents enjoy it, too, because lots of them have been reading the books out loud to their kids," she said.
Adults have another stake in the books in the form of collecting.
Larry Trowbridge, Lawrence, said he would go to several places around town trying to find a first edition first printing of the book.
He said he heard such printings of the first Harry Potter book were now valued in the thousands of dollars and he had seen copies of the other books selling for several hundred dollars.
Copyright 2018 The Lawrence Journal-World. All rights reserved. This material may not be published, broadcast, rewritten or redistributed. We strive to uphold our values for every story published.