Omaha, Neb. — Texas' Sam LeCure responded to one of the toughest situations a freshman pitcher could face.
LeCure held Miami to one run over 62/3 innings and closer Huston Street retired all seven batters he faced as the Longhorns beat Miami, 5-1, Tuesday night to stay alive at the College World Series.
The Longhorns (50-19) eliminated Miami (45-17-1) and will play Rice today. Texas would have to win twice against Rice (55-11), which is 2-0 in the CWS, to reach the best-of-three championship series that begins Saturday.
The Longhorns lost Monday to Rice, 12-2, and the defending national champions would have been sent packing if they had lost to Miami.
"I want to be that guy who goes out there when the team needs a win," LeCure said. "I like that pressure on my shoulders."
Coach Augie Garrido liked what he saw when LeCure turned in a similar performance against Texas A&M; to stave off elimination at the Big 12 Conference tournament. Garrido said that outing swayed him to give LeCure the ball against Miami.
Garrido said LeCure's competitiveness rubbed off on the team, which played error-free defense.
"You could see he was going to pitch with no fear," Garrido said.
LeCure's self-confidence was apparent in the way he operated.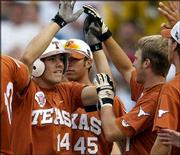 "The pitch that makes the difference is his slider," Garrido said. "Tonight he shook off fastballs and threw the breaking ball when he needed a strike."
Street picked up his 14th save of the season and became the first pitcher to record five saves in his career at the CWS.
The Longhorns managed only six hits, but four Miami pitchers issued eight walks.
Both Miami losses at the CWS were to Texas.
"Tonight was a better game," Hurricanes coach Jim Morris said, "but we gave them too many opportunities with walks and didn't get any hits with runners on base."
LeCure (5-0) allowed seven hits, walked one and struck out two. The only run he gave up came on Brian Barton's RBI double in the sixth.
Texas scored three times against Miami starter Brandon Camardese (9-2) in the third inning. Michael Hollimon hit his third homer of the season leading off the inning, and Dustin Majewski later doubled in two more runs.
Street, the 2002 CWS Most Outstanding Player, came on to strike out Adam Ricks looking on a 2-2 slider. He then set down the Hurricanes in order in the eighth and ninth to preserve Texas' victory.
Street appeared in all four of Texas' games here last year. He didn't pitch in either of the Longhorns' games before Tuesday.
"I really wanted us to get wins any way possible," he said. "If that takes me to pitch, that's fine. If not, that's probably better."
Stanford 13, S. Carolina 6
Omaha, Neb. -- Danny Putnam hit a home run and drove in five runs as Stanford eliminated South Carolina. The Cardinal (48-16) will play unbeaten Cal State Fullerton today. The Gamecocks (45-22) lost in the final last year. Ryan McCally (7-2) pitched six shutout innings and allowed one run in seven innings in his first start since May 30. He gave up six hits, walked four and struck out four. Led by Putnam, who had four hits, the Cardinal battered four South Carolina pitchers for 17 hits. Jonny Ash was 3-for-5 with a triple and three RBIs and Carlos Quentin 3-for-3 with two RBIs. Chris Hernandez (5-5) took the loss, allowing seven runs and 10 hits in 31/3 innings.
Copyright 2018 The Associated Press. All rights reserved. This material may not be published, broadcast, rewritten or redistributed. We strive to uphold our values for every story published.