Waiting for the NBA draft is wearing out former Kansas University guard Kirk Hinrich.
"I'm just real anxious for it all to be over," the 6-foot-3 ex-Jayhawk said Tuesday, catching his breath at Bill Self's KU basketball camp a day before resuming his whirlwind schedule of one-on-one workouts for NBA squads.
"It's quite a process, flying all over the country for like, one day, then hopping on another airplane. I mean it does (take a toll)," Hinrich said.
"My last couple of workouts have not been as good. I've not felt as energized. I didn't have the bounce I think I had before."
Hinrich, who held auditions in camps of the Los Angeles Clippers, Milwaukee Bucks, Golden State Warriors and Seattle SuperSonics earlier this month, worked out Saturday for the Chicago Bulls, and Monday for the New York Knicks.
He's off to Toronto later today for a Thursday session with Raptors' coaches and scouts, then will conclude his pre-draft workouts Friday in Washington.
Most analysts believe Hinrich either will be tapped by Milwaukee at No. 8 or Washington at No. 10 in the first round of the 2003 draft June 26 at New York's Madison Square Garden.
"It is kind of crazy. You dream about this for a long time. You work for it. Everybody is projecting stuff," Hinrich said. "It's hard to deal with. It's overwhelming. You just try to stay grounded while you wait for it to be over. So much is up in the air."
Hinrich is regarded by many as the second-best point guard in the draft behind Texas' T.J. Ford.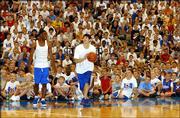 "The biggest thing for me is just trying to overcome the stereotype of being a white point guard," Hinrich said. "You go in and everyplace has been surprised how athletic I've been. I'm real pleased. I think I've had some really good workouts and impressed some people, some obviously more than others."
Hinrich has had to impress on the court -- where he is tested for shooting ability, ball handling and ability to play at a fast pace -- and in meeting rooms, where he has taken tests to unearth aspects of his personality.
"They do it pretty much everywhere you go," Hinrich said. "It's crazy stuff. Some questions are asked that you think might not be relevant, but they are trying to find out as much as they can about you."
Hinrich said he didn't care when he was picked in the draft.
"I'm not worried about that. I want to do as well as I can. Obviously I want to get in a good situation, work as hard as I can and hopefully can have a good career," he said.
He's confident ex-Jayhawk forward and fellow Iowan Nick Collison also will fare well on draft day.
"Actually, we worked out at Golden State together," Hinrich said of the 6-10, 255-pound Collison. "I obviously talk to him a lot. I think things are going good for him and whoever picks him will be real lucky."
Collison, who Monday was in Memphis and Tuesday was in New York, will travel to Toronto later this week. Collison also worked out for Miami, Chicago, Seattle, Milwaukee, Golden State and the Clippers. There's a chance he might be back in Lawrence for Self's camp today.
¢
Billy ball: Former KU guard Billy Thomas, who scored 49 points in a game last season for the Greenville (S.C.) Groove of the National Basketball Developmental League, will play for the Orlando Magic's summer-league team.
Thomas, 27, is hoping to gain an invitation to an NBA veteran camp next fall. It figures to be one of his last tries to make the NBA. The winner of the NBDL's Sportsman of the Year Award could be off to Europe if he's not picked up by an NBA squad.
"Right now I'm going with Orlando. They talked to my agent some during the season about maybe bringing me up," Thomas said Tuesday from Self's camp. "A couple of other teams that wanted me to play are in the same league so they can take a look at me.
"The biggest thing," Thomas said, "is consistency and showing you can have more than one or two good shooting days under stress and duress."
Thomas averaged 16 points a game last season.
"Billy Thomas is truly one of the greatest sportsmen I have ever been around," Greenville head coach Tree Rollins said. "He sacrificed his ego and statistics this year in order to allow his teammates to shine."
¢
New recruit: Shawne Williams, a 6-8 forward from Memphis, Tenn., has KU, Memphis, Tennessee, Cincinnati, Indiana, Houston and Arkansas on his list. He's rivals.com's top small forward in the class of 2004.
"I have not had the opportunity to speak with the coaches from Kansas," Williams told Shay Wildeboor of rivals.com. "I know that my coach has talked with them, but I haven't. Kansas is one school that I will officially visit in the fall."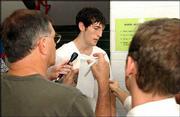 Copyright 2017 The Lawrence Journal-World. All rights reserved. This material may not be published, broadcast, rewritten or redistributed. We strive to uphold our values for every story published.