EDWARDSVILLE — Edwardsville officials want to piggyback on the success of the Kansas Speedway and create a half-billion dollar development boom on their side of Interstate 70.
The community of 5,000 in western Wyandotte County plans to grant the Cormac Co., a firm from Omaha, Neb., the development rights to a 650-acre tract southwest of the intersection of I-70 and Interstate 435 opposite the speedway.
Edwardsville wants a mixed-use development with 800,000 square feet of retail development, an 8,500-seat arena, a 700,000-square-foot professional indoor athletic facility, four hotels and a golf course bordered by 400 residences.
It will be up to Cormac to determine whether the tenants and financing can be found to reach that goal. A decision on whether the project will proceed is expected by year's end.
The proposal also puts Edwardsville in competition with Olathe, which is pursuing a $100 million mixed-use development at 119th Street and Interstate 35 that would be anchored by a similar arena.
"Our impression is whoever is first in the ground will build the arena," said John Bayless, Edwardsville city engineer. "They're very similar uses and venues."
'Amazing amount of growth'
Jeff Johnson, president of Cormac, is optimistic about the prospects of the Edwardsville proposal, called the Riverview Redevelopment Corridor District, because of its location.
"There's been an amazing amount of growth and investment in this part of Kansas City," he said.
"As a company, we're really excited to be involved in this project and feel fortunate to work with a community that's progressive and forward-thinking."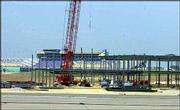 Johnson pointed to the Kansas Speedway and the nearby West Village development area, which has attracted an estimated $500 million in development, including Cabela's sporting goods and Nebraska Furniture Mart.
Cormac thinks it can lure $491 million in development to the Riverview Redevelopment Corridor.
The land is still in private hands. There are 38 parcels in the area, including 30 to 35 homes, although about 50 percent of the tract is controlled by three owners.
"We're forming a committee to establish guidelines so people get fair value for their land," said Edwardsville Mayor Stephanie Eickhoff.
STAR bonds
Bayless, who also is chairman of Cook Flatt & Strobel, an engineering firm, said Cormac was chosen as developer because its vision fit with what is occurring in the I-70 and I-435 area.
"We wanted somebody with a regional interest, national if we can get it," Bayless said. "We need something for the state as a whole."
That is because Edwardsville will need STAR bonds, the Kansas economic development tool being used to help build West Village, to realize its ambitious plan.
The program allows part of the new state sales tax generated by a qualified project to finance its infrastructure needs. To qualify, the project must demonstrate that it can bring new dollars to Kansas.
A public hearing required by the bond application process is scheduled for July 14.
The Edwardsville plan needs an estimated $50 million to improve the roads and extend the sewers required to accommodate development. Those bonds would require the sales taxes that major stores can generate, Johnson said.
"Right now, we're in the early stages of discussions with larger retail users," he said. "We need one or two big retailers before moving ahead."
As for why an arena and indoor athletic facility, including a track and competitive pool complex, were included, Bayless said "we wanted something that fits the interests of the citizens here."
The athletic facility would be operated by the Kansas Multi-Sports Foundation, officials said.
Cormac is talking to potential users of an arena, which could accommodate various minor league franchises, to gauge their interest. Town officials think the location of the proposed arena gives it an advantage over Olathe.
"We want to work with them to solidify a lot of nights that would fill the ticket," Johnson said.
Eickhoff said the Riverview Corridor plan would allow her city to grow sensibly and increase its tax base. Sales are projected to reach $150 million annually, which would yield $10 million to $12 million in local revenue.
"This is the right project and the right time for Edwards-ville," she said.
Copyright 2018 The Lawrence Journal-World. All rights reserved. This material may not be published, broadcast, rewritten or redistributed. We strive to uphold our values for every story published.