Olympia Fields, Ill. — The word came from someone else's lips, and Tiger Woods was not in the mood to hear it.
He had just shot himself out of the U.S. Open, but this was not a time to be asking about a slump.
A day that began on an unnerving note was ending with the kind of questions Woods isn't used to answering.
For the second straight major, he had gotten into contention only to shoot a fat 75. For the first time since winning the PGA Championship in 1999, he faced the very real possibility of not having even one major championship to defend.
Woods himself was partly to blame because he raised the expectations by once holding all four major titles simultaneously. He was a heavy favorite to win his second Open alongside the train tracks in this suburb of Chicago.
Now, barring a comeback that would be miraculous even by Tiger standards, Woods finds himself having to explain why his game has suddenly gone from awfully good to awfully average.
It's not a position he's used to. It's certainly not one he enjoys.
"It's really hard for me to answer that right now," Woods said. "I've won, what, three tournaments out of seven events I've played in this year, and you're trying to tell me I'm in a slump?"
Would he care to elaborate?
No.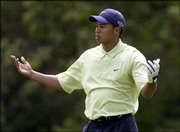 "I just said it, didn't I?" Woods said before quickly walking away.
Actually, Woods has won three of eight tournaments this year. But he's without a victory since the Bay Hill Invitational nearly three months ago, and he shot a 76 in the third round of his last tournament, the Memorial.
The throngs who jammed Olympia Fields Saturday weren't concerned with those statistics. They just expected to see Woods quickly make a move for the lead, but the game's best player never gave them anything to cheer about.
Even with his driver firmly in the bag, Woods found only nine fairways and hit just 12 greens in regulation. Once he got on the putting surface it was even worse, with Woods three-putting twice and taking 35 putts for the round.
Woods wanted to blame it on the greens. He wanted to insist it wasn't all that bad.
But he was 5 over for the day, 1 over for the tournament, a whopping 11 shots off the lead held by Jim Furyk and in a nine-way tie for 24th place.
It was his worst round as a pro in the U.S. Open.
And it was all very un-Tiger-like, indeed.
"I didn't play that poorly, that's the funny thing," Woods said. "I hit a lot of good shots, but I made nothing today. I could never get a feel for the line."
In Woods' defense, his day began on a sour note when a fan whistled loudly just as he was coiled and ready to unload on his second shot from the fairway on the first hole. Unable to stop in time, Woods flinched and his ball went into the right fairway bunker.
Woods scowled at the crowd and held his arms in the air, mouthing some words to the offending fan. He went on to par the hole, but clearly was unhappy.
"It was right on my downswing," he said. "If it was my backswing I would have stopped it, but on my downswing, I couldn't stop it."
Asked if he thought the whistle was intentional, Woods replied:
"I have no idea, no idea."
Copyright 2018 The Associated Press. All rights reserved. This material may not be published, broadcast, rewritten or redistributed. We strive to uphold our values for every story published.