Glasgow, Scotland — Jonas Lewis made the most of his chance in the World Bowl.
Lewis ran for a World Bowl-record 126 yards and added a touchdown as the Frankfurt Galaxy beat the Rhein Fire, 35-16, in NFL Europe's championship game Saturday.
The Galaxy won the championship for a record third time, while the Fire lost in the title game for the second straight season.
"NFL Europe let me showcase my talent and show that I can still play football," Lewis said. "And it gave me a chance to show that I can play in a big-time atmosphere."
Lewis spent two years with the San Francisco 49ers but was waived before the start of the 2002 season. In college, he ran for 2,900 yards at San Diego State, second only to former NFL MVP Marshall Faulk.
For his performance against the Fire, Lewis was selected the game's MVP. He had 87 yards on eight carries in the first half, when the Galaxy took a 25-9 lead.
"I'm a free agent, and I didn't look past this league. The league is all about guys like me getting a second chance," he said. "This was my focus, and now that we won a championship, I'll see what the future holds."
Teammate Robert Gillespie of the Washington Redskins had 88 yards on five carries and a touchdown. The Galaxy had 418 total yards, including 246 on the ground.
"The key was our ability to run the ball," Galaxy coach Doug Graber said. "That was the difference."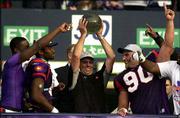 The Fire gained 371 yards, but struggled in the red zone. They kicked two short field goals in the first half and turned the ball over early in the third quarter on a fourth and goal.
"We had chances to stay in the game early on," Fire head coach Pete Kuharchek said. "We moved the ball -- but just couldn't score."
It didn't take long for the Galaxy to score. Lewis had a 22-yard run on the game's first possession to set up a 53-yard field goal by Jon Hilbert. On the next possession, Lewis ran for 22 yards on five carries and capped a 79-yard drive with a one-yard touchdown run.
Baltimore's Marc Lester caught a 20-yard touchdown pass early in the second quarter to make it 18-3.
After Rhein made a field goal, Lewis and Gillespie combined to make it 25-6. Lewis had a 42-yard gain, and Gillespie scored on a 29-yard run two plays later.
Former Notre Dame standout Autry Denson rushed for 50 yards on 13 carries for Rhein, while Denver's Nick Rolovich went 14-for-19 for 164 yards. Miami's Kendall Newson added 104 yards on nine receptions.
Quarterbacks Quinn Gray and James Brown -- who shared playing time -- didn't have to do much for the Galaxy. The duo passed for a combined 125 yards.
Copyright 2018 The Associated Press. All rights reserved. This material may not be published, broadcast, rewritten or redistributed. We strive to uphold our values for every story published.