When it comes to handling a thorny subject, Master Gardener Karen McGrath is one of the best.
Her garden is lovely in many ways. She has honeysuckle growing on the wrought iron fence that surrounds the back yard, Annabelle hydrangeas that bloom every year, pennyroyal and alyssum growing between the stones near a sitting bench and many annuals. Yet her roses are clearly her pride and joy.
The rose garden grows in a sunny corner of the yard. Each type of rose has its own space. The shrub roses grow in front, the Grandifloras and Floribundas have the next section and the hybrid teas occupy the third space. McGrath has three of this year's All-America Rose Selections winners -- the two colorful Floribundas, Eureka and Hot Cocoa, and the Grandiflora, Cherry Parfait. She planted them on March 15. Another floribunda, Singing in the Rain, thrives nearby.
A walking path weaves through the rose garden. Climbers and ramblers grow up supports along the way.
"They're just so beautiful when they bloom," she says. "I have to include them."
McGrath is also fond of the climbers Blaze and Don Juan.
"The whole thing is red," she says of Blaze.
Don Juan is known for its wonderful fragrance.
"I have found (roses) to be pretty disease-resistant," says McGrath, noting the importance of keeping water off the foliage. "You have to water on the ground."
Soaker hoses are buried under mulch to accomplish root watering.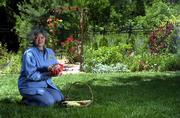 Roses Queen Elizabeth and Mr. Lincoln are growing in an area that has become shadier through the years.
"We first moved here, and we planted them (in this space.) This is their home," McGrath explains. "They come back every year and give me a few blooms, and that's enough for me."
McGrath's interest in roses began with a book.
"I received 'The Rose Bible' as a Christmas gift from my son," she says. "It really drew me in."
Besides learning the history of roses, she has acquired the knowledge that comes from experience.
"Don't forget to mound roses and put root stimulator on," she advises.
She says people sometimes plant roses incorrectly and often do not mound the soil at planting time.
"Mound the soil way up to help the plant stay warmer and bud out faster," she says.
An arbor sits along the walking path midway into the rose garden. Overhead, a wisteria vine climbs on it. Though it has yet to bloom for McGrath, it is one of her favorite things. Beyond the arbor, the garden changes, becoming more casual in its deference to nature.
"This goes to the nature trail," she says, pointing to an area just beyond the fence.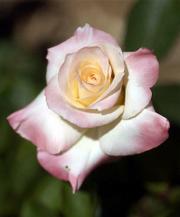 She avoids planting invasive plants in her garden, lest they get out into the nature trail.
"I'd rather them come to me," she says.
She calls the volunteers that wander from the trail into her garden her woodland buddies.
"They just volunteered, and I say, 'Come on,'" she says. "It's prettier than what you could put in your yard."
McGrath encourages butterflies and hummingbirds to come into the garden.
Every gardener knows that weeds can be a constant battle. To keep weeds to a minimum in her garden, McGrath lines her flowerbeds with newspapers and covers them with mulch.
Rhododendron plants, dead nettle and ornamental grasses grow in the garden. Beautiful Tropicana cannas bloom near one edge.
"I'm not very good with bulbs," McGrath says. Nonetheless, these bulbs are thriving. Hostas, irises and daylilies dominate other sections of the garden.
More Annabelle hydrangeas sit in an area behind the house.
"They're struggling right now," she acknowledges. "I transplanted them when it was really cold out because I like to harden off my plants so they can survive next winter."
Near the house, a cluster of annuals sitting in plastic containers awaits planting.
"Every garden is a work in progress," she says. "I wanted my roses and my wisteria. Everything else is just a fill in."
---
-- Carol Boncella is education coordinator at Lawrence Memorial Hospital and home and garden writer for the Journal-World.
Copyright 2018 The Lawrence Journal-World. All rights reserved. This material may not be published, broadcast, rewritten or redistributed. We strive to uphold our values for every story published.