It all began with Adam.
More than 220 years after Adam Hoover arrived to the United States from Germany, his descendants still get together on the same weekend every year to celebrate the role they have played in Douglas County history and each others' lives.
"We're Hoovers. We have history," said Marty Hoover, Lawrence. "We go back 150 years in this county -- in this township. What other family can say that?"
The family celebrated its 90th reunion this weekend at the Douglas County 4-H Fairgrounds, where the gatherings have been since the 1950s.
Reunion events included a breakfast Saturday morning followed by a tour of Colyer Cemetery, where much of the family is buried, and Washington Creek Brethren Church. Family members will gather for breakfast again today and have a potluck dinner tonight.
Douglas County roots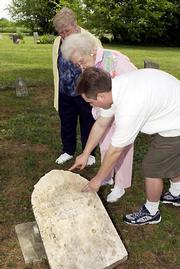 Isaac B. Hoover, Adam's grandson, moved to Kansas from Indiana with his sister, Mary Ulrich, as part of a 13-train covered wagon group. They came to Douglas County in 1856, settling on 160 acres on Chicken Creek, now Willow Springs Township.
Isaac Hoover founded the first German Baptist church in Kansas, named Cottonwood, just outside Emporia in 1866. He died at 42 of cholera. His wife died of the same disease three days later.
Hoover and his family were abolitionists during the Bloody Kansas period, 1855-1865, but as German Baptists were generally pacifists. Hoover hid his horses in a forest to save them from Quantrill's raiders and suffered no heavy damage in the massacre on Lawrence. Ulrich, however, offered a stopover on the Underground Railroad, and her house and farm were destroyed in the attack.
After the deaths of their parents, the Hoover children were taken in by the Metsker family. One son, Isaac L. Hoover, became one of the most successful farmers in the region, accumulating a 325-acre estate. He donated the land on which School District 4 was built and was a founding member of the Washington Creek Brethren Church. The church still is operating out of its original building constructed in 1885.
Traditions
Gulah Hoover Daron, 91, Oklahoma City, has attended almost every reunion since they began, only missing gatherings during World War II and to care for her ailing husband before he died. Daron said the biggest change in the gatherings has been attendance.
"We used to have very large attendance, over 100 people," she said. "But now the older generations are all gone. I'm the older generation. That makes for a loss of relations."
The early Hoovers were mostly farmers, and many had 10 or more children. As the family and times have changed, those numbers have fallen, leading to fewer people to get together.
Daron's daughter, Mary Kamp, Richardson, Texas, attributed the continuing tradition to family members who had stayed in the area.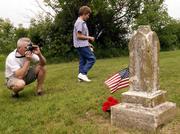 "They do all the planning," she said. "If they weren't doing it, as the generations pass, I don't think it would keep going."
Pam Hird, one of the event's organizers, said the key was getting the younger generations involved.
"Unless we get the younger kids coming, it will die out," she said.
Hird compiled genealogical information for a book, "Hoover Cousins by Dozens: Family and Descendants of Isaac B. Hoover." She said that she already was finding that some questions she had about family history could not be answered because of deaths of family members.
While attendees Saturday were mostly middle-age or older, there does seem to be some interest from the younger generation.
Ninth-generation Hoover Renae Saathoff, 17, who will be a senior this fall at Lawrence High School, said she had attended reunions since she was a child. She enjoys meeting new relatives and finding out about her family's past.
"It's kind of fun to find out your background and where you've been," she said. "We'll be the ones to carry it on."
Copyright 2018 The Lawrence Journal-World. All rights reserved. This material may not be published, broadcast, rewritten or redistributed. We strive to uphold our values for every story published.