And then there were none.
The Tonganoxie Braves, the last local team remaining in the American Fastpitch Assn. "B" National tournament, suffered a 10-2 loss to the Tuttle (Okla.) Magic late Saturday night at Clinton Lake Softball Complex and were bounced from the 14-under tournament.
The Braves showed up at CLSC around 10 a.m. and left about midnight.
"They were tired," Tongie coach Pat Albert. "It was a long day."
Earlier Saturday, the Braves beat the Lawson (Mo.) Rockettes, 3-2, and the Topeka Capital City Stars, 4-2.
The Stars sent the Lawrence Phenix out of the tournament, 4-2.
Lawrence came up with 12 hits, but left way too many runners on base for coach John Hamilton.
"We squandered too many offensive opportunities," he said. "Once you get people in scoring position with an out or less, you have to score or you can't win. At this time of year, you have to bring your 'A' game, and we didn't bring it."
Hamilton's club had a 1-0 lead in the sixth inning, when Capital City batter Danielle Sicard hit a two-run home run.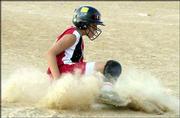 Livi Abney led the Phenix at the plate, going 3-for-3 with both of her squad's RBIs.
Lawrence next will head to Springfield, Mo., for the American Softball Assn. Nationals, starting pool play Wednesday.
The AFA "B" Nationals will conclude today. The championship games in both age brackets will be 3 p.m. at CLSC. A second championship game, if necessary, would start at 4:15 p.m.
Copyright 2018 The Lawrence Journal-World. All rights reserved. This material may not be published, broadcast, rewritten or redistributed. We strive to uphold our values for every story published.