Cromwell, Conn — Suzy Whaley's ever-present smile faded just slightly as she finished the second round at the Greater Hartford Open. Not because she was disappointed in her score, but because she knew her whirlwind week on the PGA Tour was over.
"I wish I could explain to you how it feels to have that many people cheering for you all day long, for two days straight. It's the most wonderful feeling in the world," she said.
"So I was a little sad on the last putt. But it was a great, great week."
The first woman to qualify for a PGA event since Babe Zaharias in 1945, Whaley shot a 78 Friday to finish at 13 over and miss the cut, which was even par.
She finished 148th, tied with three men and ahead of three.
The score didn't matter for Whaley, just as it didn't for LPGA player Annika Sorenstam when she accepted a sponsor's exemption to play in the PGA's Colonial in May and missed the cut there.
And it was just as irrelevant to the galleries that followed Whaley around the course, wearing pins of support. One young girl told Whaley: "You're my hero."
"For me, I think the greatest benefit in the world is every single young girl that was here today, including my own daughters, who watched me tee off with two men like it was not anything different than it should be," Whaley said.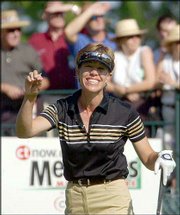 "And I feel like I showed people that you can achieve anything. ... My girls know that now."
Whaley is a teaching pro from a club in Avon who spent time on the women's tour in the early 1990s before giving it up to raise a family. She has two daughters: Jennifer, 8, and Kelly, 6.
Whaley played her way into the tournament by winning the Connecticut PGA section last year. She hit from the women's tees in that event, the men's tees this week.
After a short but steady round Thursday left her 5 over, Whaley struggled more Friday -- making three double bogeys -- but also notched another birdie. Although she played most of the holes conservatively, she was unable to recover from the few mistakes she made -- recording 6s on Nos. 4, 15 and 17, all par-4s.
She matched her lone first-round birdie by making a 14-footer at No. 1, a 434-yard par-4. Whaley missed a four-foot birdie putt on No. 9, then tapped in to finish the round. Drawing the last of many huge cheers from the gallery, she held up a towel that said "PGA Tour" to commemorate her historic appearance.
"I thought I thought of every scenario," she said. "I thought how it would be, but it was better than I could ever have imagined."
Copyright 2018 The Associated Press. All rights reserved. This material may not be published, broadcast, rewritten or redistributed. We strive to uphold our values for every story published.