Minneapolis — Kansas City wants to widen its lead while it's hot.
"We're playing against teams in our division, and those are the ones that we really need to beat," Carlos Beltran said after Wednesday night's 8-3 win over the Minnesota Twins. "If we beat those guys, we have a very good chance to win our division."
Aaron Guiel homered twice, and Beltran, Raul Ibanez and Angel Berroa also connected in the opener of a two-game series against the defending division champion.
Beltran was 3-for-4 with a home run, a double, an RBI and a stolen base. In his last 10 games, he is batting .474 (18-for-38) with two doubles, two triples, three home runs, 12 RBIs and five steals.
"It's not like Carlos is carrying the team. Everybody has been able to contribute to the cause," Royals manager Tony Pena said. "But Carlos has been doing more of the damage lately."
Kansas City, 30-9 within the American League Central, is five games ahead of the Chicago White Sox and 61/2 in front of the Twins.
Guiel hit a pair of solo shots, the first multihomer game of his major-league career. He has eight homers this season, including six in July.
Berroa hit a three-run drive that gave Kansas City a 7-0 lead.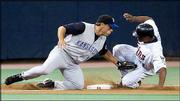 "I guess everybody woke up stronger this morning," Beltran said. "Things happen like that. I don't think anybody here was trying to hit a home run. They just come out and that's the way baseball is."
Jeremy Affeldt (6-5) allowed three hits in five scoreless innings, striking out five. He left after a blister flared up on his pitching hand for the second time this season. Pena said it shouldn't cause Affeldt to miss his next start.
"It came back and they just wanted to make sure it didn't get any worse," Affeldt said. "It just got to a point where there's a lot of season left and I don't want to go on the (disabled list), and I don't think they want that, so they just made the decision to pull me."
Johan Santana (4-3) allowed five runs, five hits and three walks in 51/3 innings. He is winless in three starts since beating Arizona June 13.
"I made a lot of mistakes and they took advantage of them," Santana said. "I couldn't get my fastball ahead in the count and my curve was off of the plate."
Kansas City is 8-3 against the Twins this year after going 5-14 last year.
"They're playing with confidence," the Twins' Torii Hunter said. "Some of the young guys, they're hitting and banging like we were last year. They're improving. You can't take it away from them."
Beltran hit his 14th homer in the fourth and Guiel homered in the fifth, a drive to center just cleared the glove of a leaping Hunter.
Ibanez got his 13th home run in the sixth. After a double and a walk, Juan Rincon relieved, walked a batter and threw a run-scoring wild pitch. Berroa hit the next pitch for his 12th homer.
Minnesota's Luis Rivas homered leading off the bottom half. Guiel homered off Rincon in the ninth for an 8-1 lead.
"Tomorrow's game is very big," Hunter said. "We've got to come out and play and they will too. It's a must win. We'll be ready."
Notes: Kansas City is 9-2 in its last 11 road games. ... The Royals activated 3B Joe Randa from the 15-day disabled list. He hadn't played since July 2, when he left in the first inning of a game against Cleveland because of a strained oblique muscle. He started at third base and batted second, going 1-for-5. ... Today is the 20th anniversary of the infamous George Brett pine tar game, in which Brett's go-ahead homer off Rich Gossage in New York was overturned by plate umpire Tim McClelland because Brett's bat had too much pine tar. The Royals' appeal was upheld by AL president Lee MacPhail, and 20 days later they returned to Yankee Stadium for the game's final four outs, winning 5-4.
Copyright 2018 The Associated Press. All rights reserved. This material may not be published, broadcast, rewritten or redistributed. We strive to uphold our values for every story published.