Just who in the world is going to stop these Lawrence Raiders?
"Nobody," catcher Tommy Mangino said. "Not when we play the way we're capable of playing."
He might sound overconfident, but the idea hardly is far-fetched -- look at the way the Raiders are wrecking opponents in the American Legion Zone II baseball tournament at Free State Field.
The Raiders again made it look easy Wednesday, this time beating Olathe MAAE, 14-1. The win propels Lawrence to tonight's possible championship game at 8 p.m. against the winner of the 5:30 p.m. game between Olathe and the Blue Valley Jaguars.
If the Raiders (34-10) win tonight, they'll win the zone tourney. If they lose, they'll have a rematch with tonight's opponent at 7 p.m. Friday to determine the zone champ.
Prior to Wednesday's blowout, the Raiders topped the Blue Valley Huskies, 12-2, Tuesday, giving them 26 runs in their last 14 innings -- all against quality opponents.
"This is probably the best we've played against a good team," Raiders coach Carl Brooks said. "We've really got some weapons."
No kidding. And seemingly all fired perfectly Wednesday against a completely overwhelmed Olathe squad. The Raiders pounded out 13 hits, made zero errors and enjoyed a pitching gem by Matt Lane, who gave up four hits in his seven innings of work.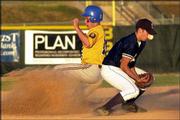 "I think we're as confident as we've been all season," Mangino said. "And it always helps to have Matt on the mound."
Mangino, who admittedly has been struggling with the stick, crushed a two-run home run to center field Wednesday, and just missed two more bombs, getting a sacrifice fly and a long flyout. He ended up 1-for-3 with three RBIs.
Offensively, the Raiders had too many standouts to give Olathe any chance to rally. Derek Bailey was 2-for-3 with two RBI triples and three runs scored. Matt Berner was 3-for-4 with two doubles and an RBI. Taylor Martin smoked a two-run homer and added a single.
The Raiders' offense let Lane comfortably cruise. He struck out eight, and after a somewhat shaky first inning allowed two meaningless singles.
"Matt Lane," Brooks said, "was masterful tonight."
Then again, who on the Raiders wasn't?
Raiders 14, Olathe MAAE 1
Raiders 004 132 4 -- 14 13 0
Olathe 100 000 0 -- 1 4 4
W -- Matt Lane. L -- Kyle Knutson.
2B -- Lawrence: Matt Berner (2), David Arndt. 3B -- Lawrence: Derek Bailey (2). HR -- Lawrence: Tommy Mangino, Taylor Martin.
Raiders highlights: Matt Berner 3-for-4, 2 runs; Derek Bailey 2-for-3, 2 RBIs; Taylor Martin 2-for 4, 2 RBIs; Tommy Mangino 1-for-3, 3 RBIs.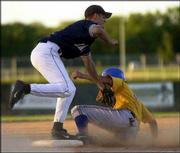 Copyright 2018 The Lawrence Journal-World. All rights reserved. This material may not be published, broadcast, rewritten or redistributed. We strive to uphold our values for every story published.