Memphis, Tenn. — Jack McKeen had just begun to take a chain saw to the 100-foot-long fallen oak tree that he and his crew were removing from a driveway when his cell phone started ringing -- again.
"I've had six calls since I got here this morning and I got here about an hour ago," he said.
McKeen, swamped with requests to help remove storm debris, was among thousands of workers and homeowners struggling Wednesday to clear fallen trees and other debris left by a storm Tuesday that tore across many parts of the East.
The storm, packing wind of up to 100 mph, killed at least six people and knocked out electricity for hundreds of thousands of customers.
Memphis was among the hardest hit, with hundreds of trees down, homes and businesses damaged and entertainment landmarks endangered.
More storms rippled across the region Wednesday, soaking parts of the South, the East Coast and the Ohio Valley.
Two people, one an infant, were killed in Memphis when the city was struck Tuesday morning. Three drowned Monday and Tuesday in Ohio, where Youngstown got up to 7 inches of rain, and a falling tree branch killed a woman during a storm Tuesday in New York City.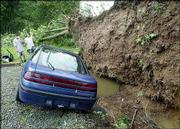 Wednesday in western Pennsylvania, rescuers were searching the Allegheny River for a 6-year-old boy who fell into fast-moving waters overnight northeast of Pittsburgh.
At least three tornadoes touched down in Pennsylvania, including one that caused the collapse of a viaduct in McKean County.
Memphis' Beale Street entertainment district remained closed Wednesday because a 500-foot construction crane was tilted by the strong wind. Authorities evacuated businesses near the site. The Gibson Guitar Factory also had heavy damage.
Flooding washed out three bridges serving an apartment complex in Akron, Ohio, stranding about 200 residents. Workers on Wednesday finished a makeshift road to reach 100 residents who'd been stranded since Monday.
At Ohio's Cuyahoga Valley National Park, soil was washed out from the Cuyahoga Valley Railroad tracks, Supt. John Debo said. "In some places, the track is suspended in the air six feet," Debo said.8
Copyright 2018 The Associated Press. All rights reserved. This material may not be published, broadcast, rewritten or redistributed. We strive to uphold our values for every story published.