MONROVIA, Liberia — Liberian rebels on Wednesday shattered a day-old pledge to cease fire, lobbing mortars at neighborhoods crowded with refugees and briefly capturing a key bridge in the war-ruined capital -- a city running desperately short of food and water.
Boosting security around the U.S. Embassy, American military helicopters swept into embattled Monrovia carrying 20 Marine reinforcements, completing deployment of a 41-member team.
As a fog bank engulfed the rain-soaked city, the helicopters swept out again with 18 American and European evacuees -- aid workers, journalists and members of a U.S. assessment team sent to evaluate conditions for any possible U.S. deployment.
With no letup in fighting, West African leaders pledged Wednesday to send two Nigerian battalions to Liberia within days-- the vanguard of what they say should be a 3,250-strong international force to bring peace to the devastated nation.
The first Nigerian battalion, 770-strong, would arrive in a week, officials said.
In Accra, Ghana, a top aide to President Charles Taylor again pledged that the Liberian president would leave the day the Nigerian troops arrive.
"When the interposition force arrives, Mr. Taylor will leave," Lewis Brown said.
Taylor has made repeated pledges to cede power since rebels opened attacks two months ago on Monrovia, Taylor's last stronghold.
Rebels, pressing home a three-year war to oust Taylor, derided his most recent promises to surrender control.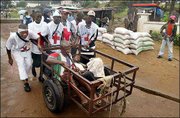 "Taylor is just bluffing," rebel spokesman Kabineh Ja'neh said in Ghana, site of off-and-on peace talks for Liberia. "You know how many times he has said this kind of thing? We'll make sure he leaves."
The United States has yet to say whether it will take part in any military intervention in Liberia, as West African and U.N. leaders and many Liberians have urged.
Navy Lt. Cmdr. Terrence Dudley, spokesman for the U.S. assessment team, declined to discuss its conclusions, saying only it was "satisfied" with the information gathered so far. Four team members are remaining in Liberia to provide additional information as needed.
Major British aid agencies appealed for Europe and the United States to send peacekeepers to stop the bloodshed.
The agencies Save the Children, Action Aid, Christian Aid and the Catholic Agency for Overseas Development called for a U.N. resolution on peacekeeping.
Africa's first republic, Liberia was founded by freed American slaves with U.S. government support in the 19th century.
Since June, rebels have launched three waves of attacks on Monrovia. Fighting has killed hundreds of trapped civilians in the capital.
Cut off from the city's cemeteries by the battles, aid workers, their faces masked, buried victims of fighting Wednesday on Monrovia's beaches, shoveling corpses into the sand under driving rain next to the stormy, steel-gray Atlantic.
More dead lay uncollected in the streets -- making the death toll since the latest surge in fighting impossible to calculate.
U.S. Ambassador John Blaney condemned the attacks as "senseless violence" and expressed "deepest sympathies regarding the tragic loss of life" in a joint statement with U.S. defense officials at the embassy.
Explosions boomed and gunfire rattled Wednesday in the city, despite a rebel pledge Tuesday to cease fire. More than 100 injured arrived at the city's main hospital.
By midday, rebels based in the city's northwestern port area had crossed Stockton Bridge into the New Georgia suburb, Lt. Gen. Roland Duo said. Government forces -- many of them teenagers armed with AK-47s and grenade launchers -- beat back the rebel advance by dusk.
Copyright 2018 The Associated Press. All rights reserved. This material may not be published, broadcast, rewritten or redistributed. We strive to uphold our values for every story published.