New York — Just two years ago, Amy MacDonald had a hard time convincing her four teenage children to go to Wal-Mart to buy their back-to-school clothes. But with the discounter adding more trendy fashions, it's no longer a hard sell.
"Before, my kids did have a problem shopping there," said the Gilbert, Ariz., resident, who used to spend more time looking for deals at department stores. "But Wal-Mart has changed in terms of fashion -- whether it is in jeans, tops or little skirts. It had been very basic."
Wal-Mart is becoming more of a fashion retailer as the sluggish economy and changing priorities have forced parents and their children to be more price-conscious. The world's largest company is expected to strengthen that reputation during the back-to-school season, powered by a deal with Levi Strauss & Co. that puts discount denim men's, women's and children's lines into Wal-Mart stores. The partnership marks Levi's debut at a discount chain.
The Levi's addition, along with Wal-Mart's makeover of its teen and preteen fashion areas, puts even more pressure on department and specialty stores that have lost back-to-school business to mass merchants.
"Levi's ... will help us identify us as a destination for credible fashion," said Celia Clancy, senior vice president of general merchandise and apparel at Wal-Mart.
The new Signature Levi's jeans are priced from $18 to $24. That's about 15 percent to 35 percent less than the typical $30 to $35 price for Levi's most popular basic jeans called The Red Tab.
Star power
Besides the addition of Levi's, Wal-Mart has spruced up its store brand for teens called No Boundaries; expanded its Mary-Kate and Ashley label tied to the teenage TV celebrity Olsen twins; and brought in more stylish underwear. It soon will be adding a line of apparel linked to the Disney Channel's animated series "Kim Possible."
The competition in the teen apparel market is becoming more fierce. Overall, apparel spending for teens dropped 17 percent from September through April compared with a year earlier, according to a survey of 40,000 consumers conducted by NDP Group, a research firm in Port Washington, N.Y. That's a big contrast from the previous three years, when teen apparel spending was up 5 percent to 8 percent on average.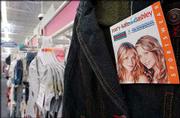 Marshal Cohen, senior industry analyst at NPD, reasoned that consumers were spending more money on after-school activities and other entertainment. When they buy fashions, they're going to discounters to save money. Specialty and department stores are particularly suffering in the so-called tween area, which caters to girls ages 7 to 12.
Discounters like Target have already pulled in teens with trendy labels like Mossimo and Todd Oldham. But Wal-Mart, with its combination of improved fashions and its lowest-price mantra, is catching up due to the overall rising unemployment rate and a difficult job market for teens.
'Money is everything'
MacDonald's daughter, Maria, who will be attending college this fall, wanted full-time summer work at McDonald's, but only works 30 hours a week. Buying clothes at Wal-Mart has been a way to save because "money is everything," Maria said.
MacDonald's other daughter, Rebecca, also shops at Wal-Mart because of the price and the trendier styles.
"I hate to go to the mall and spend $40 to $60 on a pair of pants," Rebecca said. "I'm trying to save up for things."
Already, at least one retailer, Too Inc., is coming out with a discount offshoot in response to the changing climate. The company said in May it was dropping its 18 mishmash stores that cater to teens, and focusing instead on discount stores based in strip centers and geared toward the tween group.
But Kurt Barnard, president of Barnard's Retail Consulting Group, in Montclair, N.J, believes it "won't be easy" for such a spinoff to compete with Wal-Mart. He expects the discounter to sign more deals to grab big teen brands.
Copyright 2018 The Associated Press. All rights reserved. This material may not be published, broadcast, rewritten or redistributed. We strive to uphold our values for every story published.