From the beginning, Richard Norton Smith has said the dedication events for the Dole Institute of Politics would focus on veterans of the World War II generation.
But there's no doubt a handful of big-name celebrities will be the focus of attention for many who attend the dedication events.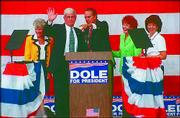 "To me, it's all pieces of a puzzle," Smith said. "It's a celebration that's grounded in gratitude to the 'Greatest Generation.'" Naturally, Smith said, such an event would attract people of national prominence. "I see them complementing one another."
In addition to former U.S. Sen. Bob Dole and his wife, current Sen. Elizabeth Dole, R-N.C., celebrities include former Presidents Jimmy Carter and Gerald Ford, NBC's Tom Brokaw and former New York City Mayor Rudolph Giuliani.
Others scheduled to attend include former U.S. Sen. and presidential nominee George McGovern; Dole's 1996 vice presidential running mate, Jack Kemp; former U.S. Sen. Nancy Kassebaum-Baker; Condoleezza Rice, national security adviser; and the entire Kansas congressional delegation.
"The spectacle and drama of the dedication is really a tribute to Sen. Robert Dole, and in some ways a recognition of Sen. Elizabeth Dole," Kansas University Chancellor Robert Hemenway said. "There are some powerful concepts at work here, a recognition of public service as part of a university learning experience. It doesn't surprise me powerful figures like Jimmy Carter, Gerald Ford, Rudy Giuliani and Tom Brokaw want to participate. Their presence makes a statement about what we can do on a national scale."
Copyright 2018 The Lawrence Journal-World. All rights reserved. This material may not be published, broadcast, rewritten or redistributed. We strive to uphold our values for every story published.