It's been a mantra of Richard Norton Smith, one of several sentences he's uttered countless times since taking over as director of the Dole Institute of Politics in 2001.
"We want to use Bob Dole's story as a clothesline on which to hang a much larger picture of Kansas politics," he said.
That was the goal in designing the exhibits that fill the Darby Gallery near the institute's entrance, a gift from the family of former U.S. Sen. Harry Darby of Kansas, and the 3,300-square-foot Hansen Hall, the center corridor of the Dole Institute.
In all, 20 separate exhibits encased in walnut cabinets, with four video presentations, comprise the museum.
Perhaps the most striking artifacts of the exhibit space are found near the south entrance, beneath the 40-foot-tall stained-glass American flag. There, two 10-foot steel columns from the World Trade Center are encased in glass -- displayed vertically to suggest the Trade Center towers but not mimic them, Smith said.
Nearby are Dole's World War II uniform, dog tags and Purple Heart.
In Hansen Hall, visitors are walked through Dole's life in chronological order. It starts with a video on the Italian campaign of World War II, in which Dole was wounded just months before the war's end.
A six-minute video presentation explains Dole's rehabilitation process. That exhibit also includes a piece of homemade exercise equipment Dole used when he returned to Russell. It remained fixed to a backyard fence in Russell for 55 years before being moved to the Dole Institute earlier this year.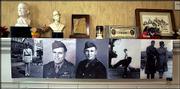 Other exhibits take visitors through Dole's early Kansas political career, the Watergate years and his vice presidential run, Senate years and presidential runs.
A video, under a replica of the Capitol dome, takes visitors through the legislative process. Some exhibits include a section called "The Kansas Way," which highlights various aspects of Kansas politics, such as the role of women.
Other artifacts in the exhibit include the cigar box placed at a Russell store window to raise money for Dole's medical expenses, gifts from leaders such as a silver prayer bowl from the Dalai Lama and a Russian tea server, the Medal of Freedom presented to Dole by President Clinton and the storyboard from a Visa commercial featuring the former senator.
Tours of the new Dole Institute of Politics building will be given throughout the weekend.Exhibits include a chronological walk through Dole's life, a video of the Italian campaign of World War II and a storyboard from a Visa commercial featuring Dole.
Copyright 2018 The Lawrence Journal-World. All rights reserved. This material may not be published, broadcast, rewritten or redistributed. We strive to uphold our values for every story published.