Third-grader Katie Conard stuck out her bottom lip, sucked it back in, and pursed her lips as she contemplated the chessboard.
Seizing a chess piece, she made her move.
"Checkmate," she announced to her opponent, second-grader Gage Buffington.
Then, staring at the pieces, Katie retracted her victory call.
"Wait a minute... maybe not yet," she said.
The two Quail Run School students may not have perfected their chess skills yet, but that is the purpose of the meetings of the Quail Run School chess team this summer.
In the other room, John Conard Jr., Katie's father and the coach, showed two other team members their homework for the next week and asked them to work out some moves on four chessboards he had set up.
"This is a game that Bobby Fischer played in 1967, and he came up with a pretty outrageous move," Conard explains to Paige Kallenberger, fourth grade, and Andrei Elliott, third grade.
During the summer, Monday evenings in the Conard home have been reserved for the chess team. The six children in the beginner group, kindergarten through third grade, gather there to learn the complexities of chess.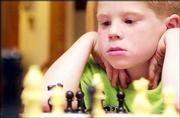 "Research shows that it helps kids' intellectual skills," Conard said. "It helps all kids, not just the super-bright ones."
Conard got his start playing chess with his brother at age 10. Both were soon playing chess with the Kansas University chess club. His interest in the game was revived when he started teaching his daughter when she was 4.
There are two other groups on the team, the U-team, or intermediate, and championship, which also meet during the summer with other coaches.
The team was formed eight years ago, and has since placed first and second in national championship tournaments.
The team plays in 10 to 15 tournaments every year, often going up against older competitors.
Paige said that at one tournament she and Andrei both beat the same seventh-grader.
"A first- and third-grader also beat him, and I think he was quite surprised about that," she said.
What is it about chess that makes it worth the Monday meetings and nightly summer homework? The team members agreed that the game led to increased brain power.
"Chess is better for your brain, and it seems to make you more intelligent," Katie said.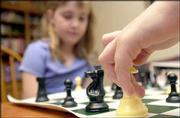 Gage said that though he had a PlayStation, a GameBox and a GameBoy, he preferred chess to any of his video games.
"It's something you really want to get good at," he said.
The team members also seemed to understand that chess could teach them life lessons. Katie said chess was kind of like war, and Paige said it taught problem-solving skills and how to think ahead.
"You have to make sure you don't fall into somebody's trap," Gage added.
Since many children will shy away from anything dubbed "homework," especially in the summer, Conard is surprised his team willingly submits to assignments of nightly chess practice.
"I tell people that I'm one of those rare people that gets to be in awe of kids every week," Conard said. "They're sure working a lot harder than I did when I was a kid."
Copyright 2018 The Lawrence Journal-World. All rights reserved. This material may not be published, broadcast, rewritten or redistributed. We strive to uphold our values for every story published.