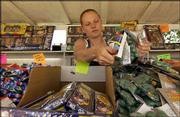 Brightly colored fireworks weren't the only thing Lawrence customers were taking away from area fireworks stands Wednesday. Many vendors also were making sure patrons left with blaze orange fliers urging them to ask city commissioners to repeal a ban on fireworks inside the city limits.
The fliers may be the first step in a campaign to force the issue of the ban to a citywide election, area stand operators said.
"We have said that banning fireworks is OK, if that's what the people of Lawrence want," Jim Pine, co-owner of Pine's Fireworks, said. "But it is not OK if it is just because that's what a few city commissioners want."
Wednesday was the first day fireworks vendors in Douglas County could open for business. Reports were mixed on whether the first-year ban had hurt sales.
Larry Bartz, a co-owner of Bartz Brothers Fireworks, said his business was planning for a decline.
He ordered only about $8,000 worth of fireworks versus the $16,000 inventory he normally would have. He said he had noticed a slowdown in the number of mothers with children who traditionally were big first-day shoppers.
"I think this probably will be one of our worst years, but I hope I'm wrong," said Bartz, who has operated the stand near 31st Street and Kasold Drive for 10 years.
Pine said he reduced the inventory at his North Lawrence stand by about 30 percent in preparation for a slowdown, but said sales had been keeping pace with previous years.
"There are a lot of people just snubbing it (the ban)," Pine said. "There are a lot of people saying nobody is going to tell them what they can and can't shoot."
Both Pine's and Bartz Brothers were among the firework stands handing out the orange fliers. The fliers were printed by the Douglas County Fireworks Assn., and included the name, home telephone number and e-mail address of each city commissioner.
Pine estimated that about six of the 12 firework stands in the county were distributing the fliers. The fliers ask people to send in $1 to the organization, along with their address, telephone number and e-mail address.
Bartz said the hope was to create a database of supporters large enough to change the mind of city commissioners. The group also is looking into its legal options to force the city to put the question of a ban to a citywide election.
The state's law on referendums "likely could" apply to the city's fireworks ban, Assistant City Manager Dave Corliss said. Douglas County Clerk Patty Jaimes said the law would require a petition signed by about 3,900 registered city voters. That number is equal to about 25 percent of the number of people who voted in the last city election.
The ban does seem to have reduced the number of firework stands in the county. County zoning officials said there were 12 registered sellers, down from 21 a year ago.
Copyright 2017 The Lawrence Journal-World. All rights reserved. This material may not be published, broadcast, rewritten or redistributed. We strive to uphold our values for every story published.