KANSAS CITY, KAN. — With no promise of leniency in sentencing, a former Topeka bank president pleaded guilty Monday to concealing a $1.5 million loan he received from former Westar Energy chief David Wittig.
Clinton Odell Weidner II entered the guilty pleas to two counts of making false bank entries. He still faces two other counts of making false bank entries, one count of conspiracy and one count of money laundering. He will go to trial on the remaining charges.
Wittig, the former head of Kansas' largest utility, faces four counts of making false bank entries, reports and transactions. Another count would require Wittig and Weidner to forfeit $1.5 million to the federal government to offset a loan that is the center of the case.
The alleged crimes were not related to Westar business.
Weidner, who was Wittig's personal banker at Capital City Bank in Topeka, said he alone was responsible for hiding the loan's existence.
Jury selection began after Weidner's plea. More than 100 prospective jurors packed a large courtroom to be questioned by the judge and the attorneys.
Prospective jurors who indicated they had heard of the case, which has received heavy news coverage, were taken one-by-one to a conference room and questioned privately by the judge and attorneys. At least nine people were excused after such sessions, which lasted five to 10 minutes each.
With the jury pool whittled to 65 by Monday afternoon's adjournment, U.S. District Judge Julie Robinson predicted a jury would be seated by midday Tuesday. She said the trial could last until the middle of next week.
Neither defendant had disputed prosecutors' claim that in April 2001, Weidner offered Wittig the opportunity to invest in a real estate project called Eagle Ridge in Scottsdale, Ariz. The deal, in which Weidner had a 50 percent interest, required a $1.5 million down payment by the end of the month.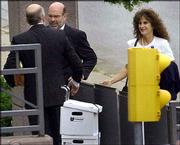 Wittig turned down the deal. But he offered to lend Weidner the money if Weidner increased Wittig's $3.5 million line of credit at the bank by $1.5 million.
In his plea, Weidner admitted that on May 14, 2001, he wrote on a bank questionnaire that no one other than Wittig would benefit from the increase in Wittig's line of credit, even though, prosecutors said, Weidner was the actual beneficiary of the loan.
The other count to which Weidner pleaded guilty alleged that on May 1, 2001, Weidner signed and submitted a personal financial statement that concealed the fact that he had borrowed $1.5 million from Wittig.
"Mr. Wittig had no knowledge of this," Weidner told the judge. "He was not involved in my decision to do what I did."
The remaining counts of making false bank entries that Weidner faces involve the loan proposal and Wittig's personal balance sheet. Prosecutors allege Weidner lied about the purpose of the loan on the proposal and that Wittig's filing of a personal balance sheet failed to mention Wittig's $1.5 million loan to Weidner.
Weidner faces a maximum of 30 years in prison plus a $1 million fine. Because there was no plea agreement with federal prosecutors, Weidner has no assurance that the government would recommend a reduction in his sentence.
But Weidner's attorney, Pedro Irigonegaray of Topeka, said Weidner pleaded guilty to the two counts, "because it is the right thing to do."
"Mr. Weidner is an honorable man," Irigonegaray said, adding there was also a strategic consideration: "It is our belief that once the jurors hear the totality of the evidence, that on all the other counts, these gentlemen will be acquitted."
Irigonegaray said that Weidner's plea should not be held against Wittig.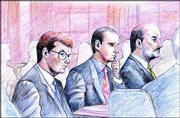 Robinson set a sentencing date of Sept. 29 in Topeka.
In his defense, Wittig said the loan was not illegal or improper and was properly documented, fully secured and called for repayment at the going rate of interest. Moreover, Wittig said, he paid off the line of credit, plus interest, so the bank suffered no loss. In any case, Wittig contends the banking laws he supposedly violated apply only to bank officials, not to bank customers.
The charges aren't related to Wittig's former post at Westar, where he served as chief executive officer for four years. But Wittig has also come under intense scrutiny for his handling of Westar business.
The company had incurred billions of dollars in debt by the time Wittig resigned. A recent internal investigation indicated that Wittig abused his position, misused corporate jets and sought personal gain at the company's expense.
Copyright 2018 The Associated Press. All rights reserved. This material may not be published, broadcast, rewritten or redistributed. We strive to uphold our values for every story published.