Wheelchair rammed into wheelchair again and again.
People shouted, slapped hands, fell on the floor and flipped fancy over-the-shoulder passes.
A series of National Wheelchair Basketball Assn. games yesterday at Holcom Recreation Center showed that the sport requires well-toned triceps, passing skills and an ability to change directions quickly with a jerk of the wheel or a twist of the torso.
"You're using your arms as your legs for the whole game, and you have to shoot with them, too," said Lawrence resident Ray Petty, a member of the Kansas Wheelhawks, which won all three of its games.
The Wheelhawks' roster includes players from Lawrence, Topeka, Johnson County and Paola, as well as one member from Colorado. In recent years it's been the dominant team in a five-member conference that includes teams from Kansas City, St. Louis and Nebraska, all of which traveled to Lawrence Saturday.
The Wheelhawks play the last game of their regular conference season at 12:30 p.m. today at the recreation center and are assured to win the conference title because of their 10-1 record.
Their immediate goal is to perform well in this year's national Division II tournament, but they have some long-range goals as well.
"We want to develop a college team," said Petty, a partner in Westside Deli & Market, 4931 W. Sixth St. "What would be sweet is if we could get out of state tuition waivers for them."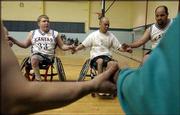 The idea is that bringing recruits to Kansas University would help make the sport more popular locally and give people more chances to play. Petty said he also would like to see a junior team established in Lawrence.
The Wheelhawks practice once a week at a gym in Topeka. Any wheelchair users are welcome to start practicing with the team, with some conditions.
"You have to come to practice. You have to try. You have to be reliable," said Petty, who uses a wheelchair because he had polio as a child.
Players use customized wheelchairs that can cost between $2,000 and $3,000. The rules are much the same as NCAA basketball, with some differences. For example, a player can't push his or her wheels more than twice without dribbling the basketball, and it's illegal to gain a "physical advantage," by putting a foot on the ground or coming up off the wheelchair's seat.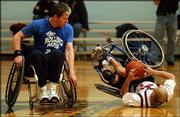 Then, there are the finer points, such as figuring out the angle required to jam an opposing player's wheelchair to keep it from moving. If it's done properly, it sets up a fast break or gives a teammate a few feet of space to shoot the ball.
Some players know how to swing their weight to one side -- balancing for a moment with half the wheelchair in the air -- to gain extra height advantage for blocking a shot.
In this game, things that look simple can be complicated. For example, the action of moving ahead in a straight line with the ball is difficult because holding the ball leaves only one hand for pushing the wheelchair.
"Without the ball, you should be faster than the guy with the ball," Wheelhawks member Walt Cunningham of Paola said as he took a break on the sidelines.
Copyright 2018 The Lawrence Journal-World. All rights reserved. This material may not be published, broadcast, rewritten or redistributed. We strive to uphold our values for every story published.