Learning about Kansas' colorful history as a free state will soon come with an admission fee.
Starting Feb. 1, the Kansas Museum of History and several state historic sites, including Constitution Hall in Lecompton, will start charging for admission. Currently, the history museum in Topeka and historic sites across the state are available to visitors free of charge, though donations are encouraged.
"We have just been put in a position where we don't have sufficient funds to run the sites," said Terry Marmet, director of historic sites for the Kansas State Historical Society.
State budget cuts over the past few months have reduced funding at the historical society by $500,000, or about 9.1 percent, resulting in layoffs and shorter operating hours at the museum and research room at the Kansas History Center, which is next door to the museum.
For now, the admission charges are needed to "tread water," Marmet said, but he added that when the budget slide stops, the admission fees could be used to improve the sites.
Kansas, like many states across the nation, is facing an unprecedented revenue shortfall brought about by the economic downturn, tax cuts passed in more lucrative times and increased government spending.
Kansas Gov. Bill Graves has ordered two rounds of state budget cuts that are expected to cut social services to thousands of needy Kansans.
Now the cuts also are resulting in steeper and new fees, such as those at the historical society.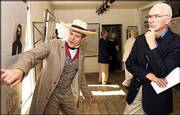 Marmet said Kansas was one of the few states still offering free admission to its historic sites. "We have held back as long as anybody," he said.
He said the charges probably would result in fewer visitors to the sites.
Admission to the Kansas Museum of History will be $4 per adult, $3 for historical society members and seniors, $2 per student and $1 per student for school tours. The minimum cost to be a member of the historical society is $30.
The admission fees at the state historical sites will be $3 per adult; $2 for students, members and seniors; and $1 per student for school tours.
About 5,600 people per year visit Constitution Hall in Lecompton. In the late 1850s, the building was the site of legislative fights between pro-slavery and anti-slavery forces to control the Kansas territory. The building is open from 10 a.m. to 5 p.m. Wednesday through Saturday, and 1 p.m. to 5 p.m. Sunday.
One block from Constitution Hall is the historic Territorial Capital Museum, which is run by a local historical society and will remain free of charge, though donations are requested. It is open from 11 a.m. to 4 p.m. Wednesday through Saturday, and 1 p.m. to 5 p.m. Sunday.
Paul Bahnmaier, president of the Lecompton Historical Society that runs the capital museum, said he was sorry to see that Constitution Hall was going to start charging admission.
"In the long run, I don't think it will benefit," he said. He said fewer people would visit and that might reduce revenue below what Constitution Hall received in donations.
Copyright 2018 The Lawrence Journal-World. All rights reserved. This material may not be published, broadcast, rewritten or redistributed. We strive to uphold our values for every story published.