KANSAS CITY, KAN. — Kansas University researchers are about to get access to $8.8 million in state-of-the-art equipment not found anywhere else in the region.
Construction is complete on the Hoglund Brain Imaging Center at KU Medical Center, and machines are being installed that will help researchers understand everything from multiple sclerosis to head trauma.
"It's amazing," said Ruth Ann Atchley, assistant professor of psychology. "It's a wonderful thing. I brag to all my friends at conferences, and they're jealous. It's going to be a powerful set of tools to use."
The 11,500-square-foot center features a high-powered magnetic resonance imaging (MRI) device, a magnetoencephalography (MEG) machine and an MRI system designed to test animals.
MRIs measure which areas of the brain become active while performing different activities. MEGs measure the chemistry of the brain. Together, they paint a better picture of how the brain functions -- both under normal and abnormal conditions.
"It was a huge gap of equipment and capability for KU and the (Kansas City) research community at large," said William Brooks, who was hired this summer as the center's director. "We'll be able to do a lot of things that haven't been done here because we didn't have the equipment."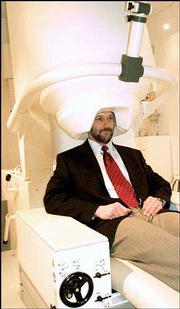 Brooks formerly was director of the Clinical and Magnetic Resonance Research Center at the University of New Mexico. He is working with an $800,000 grant from the National Institutes of Health to study traumatic brain injury.
The $10.5 million Hoglund Center was funded through a $4 million gift from Forrest Hoglund of Dallas, a KU alumnus and retired oil executive, and his wife, Sally, and through state and federal grants. Though dedication isn't scheduled until March, projects are expected to begin later this month at the center.
Atchley said the new equipment allowed her to write a grant to study how brains in people with clinical depression differed from people who weren't depressed. In the past, she has conducted most of her research on the Lawrence campus. Now she expects to be at the center once a week.
"When we study the brain, we can't open it up and poke and prod a brain in a human," she said. "The best we can do is measure what the brain is doing from outside the skull. If you ask what the brain's doing and use only one tool, you get a limited picture of what's happening."
She said experience with the equipment also would benefit graduate students as they looked for jobs and undergraduates who were applying for graduate school.
"It's the kind of thing KU needs to do to stay on the cutting edge of research," she said. "Without these tools, we could easily fall behind."
Sharon Lynch, director of the multiple sclerosis clinic at the School of Medicine, also is writing a grant based on the new Hoglund equipment. The research would help determine why people with a certain gene have a more severe form of MS.
"It adds a dimension to our research we didn't have before," Lynch said.
Copyright 2018 The Lawrence Journal-World. All rights reserved. This material may not be published, broadcast, rewritten or redistributed. We strive to uphold our values for every story published.