Money troubles may keep Monarch Watch from delivering 5 tons of school supplies to Mexican children this year.
For three years, the Lawrence-based butterfly conservation and research group has made annual pilgrimages to deliver supplies to poor schools in areas of southwest Mexico where monarchs spend the winter.
Orley "Chip" Taylor, Monarch Watch director and professor of ecology and evolutionary biology at Kansas University, canceled this year's trip, which had been scheduled for this week, after the group raised only a third of the $12,000 needed to deliver the supplies. He still hopes to raise enough money to deliver the supplies in March.
"We want to show Americans really care what happens to the butterflies and to the people near where they overwinter," Taylor said. "Those schools have so little."
Taylor said Monarch Watch had supplies in storage on campus and in Texas ready for delivery to about 30 schools. The trip typically costs $12,000, including storage and shipping costs, though Taylor said he would consider making the trip if the group raised $9,000.
Donations have been down the past year at Monarch Watch, Taylor said. He blamed the economic recession.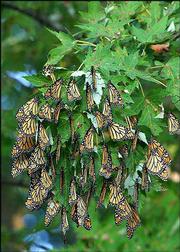 A mass death of monarchs in February 2001 also increased expenses for Monarch Watch. The group typically spends $2,500 to $3,000 a year buying monarch tags that have been gathered by Mexicans. The tag information helps Taylor and other researchers understand migration patterns.
Because of the mass death -- caused by a winter rain followed by a freeze -- the tags were easier to locate, and Monarch Watch paid Mexicans about $12,000.
If Monarch Watch raises $5,000 in the next month, Taylor said he would combine the school-supply delivery with his annual March trip to Mexico to buy butterfly tags.
To donate to Monarch Watch, send a check to 1200 Sunnyside Ave., Kansas University, Lawrence 66045.
"We still have to go down to buy tags," he said. "What we wanted to do is to have something to show good will toward the community. If we can't raise the money, a lot of people will be disappointed we can't take (the supplies) down there."
Copyright 2018 The Lawrence Journal-World. All rights reserved. This material may not be published, broadcast, rewritten or redistributed. We strive to uphold our values for every story published.