This weekend, Sterling Marlin returns to the site of his first victory of the 2002 Winston Cup season.
Marlin's win at Las Vegas marked the start of his stretch of 25 consecutive weeks leading the series standings before a neck injury ended his season.
A year later, can Marlin's Chip Ganassi-owned team return to the dominating form of last season?
There is no question in Marlin's mind.
"I think we'll be better than last year," he said. "I'll put this team up against anybody in the garage."
Although Marlin's No. 40 Dodge team is almost unchanged, the Ganassi organization as a whole is much different.
Jimmy Spencer is gone as driver of the No. 41 Dodge, replaced by rookie Casey Mears. Ganassi added a third team that also has a rookie driver, Jamie McMurray.
McMurray won a race last October at Charlotte while substituting for the injured Marlin.
Two races into the 2003 season, he is the highest-ranked Ganassi driver in points (18th).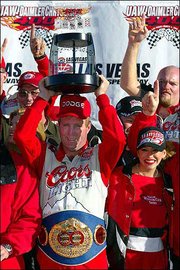 Marlin has run well in the season's first two races but has seen mixed results.
He had a strong car in the season-opening Daytona 500 but was black flagged for passing below the yellow line and ended up 17th.
Last Sunday at Rockingham, after spending most of the race in the top 10, the water pump broke in his car and he finished 40th.
"We drove all the way up on (then-leader) Rusty (Wallace) on the long run and were a little quicker than him and I thought we'd be in good shape," Marlin said of his Rockingham run. "The track changed and we got a little too tight.
"But the car would really come in after 20 laps of a run. We'll look for some luck in Las Vegas."
The tough luck to start the year hasn't hurt Marlin's confidence.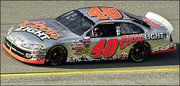 "Anywhere we go this season, we'll be in good shape," he said. "We got the same team, same cars, same engine guys, same everything.
"We had a good deal going last year and we just kind of got in a slump around May. We had to go to a lot of testing to work on a lot of chassis stuff and body stuff.
"We just had got the car back to where we needed it before I got hurt."
The injury was especially disappointing to Marlin, since he was a serious contender to win his first Winston Cup championship.
It was also the first time in his 20-plus year Winston Cup career that injury forced him out of his ride for an extended period.
"I hated it," Marlin said. "I just hated it. It's frustrating. We worked hard all year to get in a position to try to win the championship and then to have that happen."
Since Ganassi's purchase of a majority interest in Sabco Racing from owner Felix Sabates in 2000, Marlin has become a consistent contender.
In 2001, he won two races -- his first since 1996 when he was with Morgan-McClure Motorsports -- and surprised the NASCAR community with his season finish.
"You look at 2001, we were third in points and no one gave us much of a chance when the season started," Marlin said. "We felt like when we went into last year we had a pretty good chance to win the championship from the previous year with the fall run we put together.
"We've got the same everything now, so I think we can come back and be as strong this year.
"Just, hopefully, we won't get hurt."
Copyright 2018 The Lawrence Journal-World. All rights reserved. This material may not be published, broadcast, rewritten or redistributed. We strive to uphold our values for every story published.